New York
Medical Transportation
Dedicated to providing the highest level of New York medical transportation, ACC Medlink provides all types of non-emergency patients with affordable and reliable long distance medical transportation nationwide and throughout The Empire State. From New York to Buffalo and every city throughout New York and state-to-state, ACC Medlink provides luxury medical vehicles that are professionally staffed with licensed medical crew to care for your loved one or patient.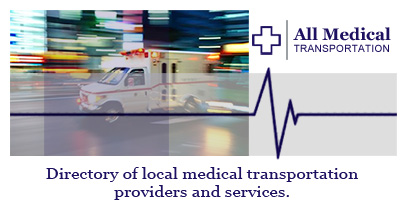 Not Going Far?
AllMedicalTransport.com is a blog and directory of wheelchair accessible and assisted non-emergency ambulatory transportation service providers available locally for those traveling less than 200 miles.
About
New York
New York (/njuː ˈjɔrk/; locally IPA: [nɪu ˈjɔək] or [nuː ˈjɔɹk] ( listen)) is a state in the Northeastern region of the United States. New York is the 27th most extensive, the 3rd most populous, and the 7th most densely populated of the 50 United States. New York is bordered by New Jersey and Pennsylvania to the south, and by Connecticut, Massachusetts and Vermont to the east. The state has a maritime border with Rhode Island east of Long Island, as well as an international border with the Canadian provinces of Ontario to the west and north, and Quebec to the north. The state of New York is often referred to as New York State to distinguish it from New York City. New York City, with a population of over 8.1 million, is the most populous city in the United States. Alone, it makes up over 40 percent of the population of New York state. It is known for its status as a center for finance and culture and for its status as the largest gateway for immigration to the United States. According to the U.S. Department of Commerce, New York City is also a destination of choice for many foreign visitors. Both the state and city were named for the 17th century Duke of York, James Stuart, future
Compare
ACC Medlink
Here's how ACC Medlink upstages competing transportation services.
ACC Medlink Sprinter
Minivan Services
RV Services
Nurse and Two Drivers
Two professional drivers drive straight through
Flawless safety record
Expert medical crew providing patient care
Compassionate bedside manners

Two drivers only
Nurse and two drivers
8" Memory Foam Mattress
8 inches of pressure free, memory foam comfort
Evenly distributes body weight
Highly energy absorbent and soft
Comfortable in any resting position

2 inch plastic mattress
Hospital-type bed
Not DOT approved for transportation
Mercedes Engineering
Extraordinary engineering, safety and reliability
Mercedes promise of "the best or nothing"

No
No
Bathroom
Bedside commode providing unparalleled access
Allows safest patient transfers to facilities en route

Bed pan
Small ambulatory patient bathroom
Oxygen Available
Oxygen Concentrator supplies oxygen at 10 liters/min
Oxygen Available
Oxygen Available
Room for Proper Care
Nurses can stand & properly care for patient en route
Tight space, no head room
Room for proper care
Beds for Family Members
Three viscoelastic memory foam beds
Family can rest comfortably during long transports

Far too small
One family member only
Low Emission Vehicles
BlueTEC SCR technology
Complies with strict EPA/CARB 2010 standards

No
No
Entertainment Options
Flat panel HD-TV, DVD and Wi-Fi internet
Wi-Fi internet only
TV and DVD only
Pet Friendly
All furry & feathered companions welcomed

No
Varies
BBB Accredited
Better Business Bureau accredited with an A rating

No
No
DOT Approved Vehicles
Department of Transportation inspected & approved

No
No
Spacious, Comfortable Vehicles
Best in class interior standing height
Plush captains chairs with dual armrests

Cramped & uncomfortable
Spacious & comfortable