Evans, CO
Long Distance Medical Transportation
ACC Medlink has long since recognized the need for medical transport services dedicated to the delivery of caring, yet clinically distinguished medical care both to and from Evans, Colorado. Specializing in long distance medical transportation (minimum 200 miles) throughout Centennial State and state-to-state, our goal is to provide pediatric and adult patients with comfortable transportation and expert medical care with a focus on personal attention that every customer deserves. Our committment to excellence has made ACC Medlink the leading Evans, CO medical transport service provider.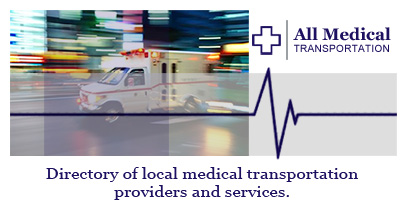 Need
Local Transport?
Call:

855-212-2001
Just going to a doctor's appointment or a trip to the grocery store? AllMedicalTransport.com is a directory of wheelchair accessible and assisted non-emergency ambulatory transportation service providers available locally for those traveling less than 200 miles.
About
Evans, CO
The City of Evans is a Home Rule Municipality located in Weld County, Colorado, United States. The population was 9,514 at the 2000 census, and estimated at 18,842 as of July 1, 2008, by the Census Bureau. Named for the second Territorial Governor of Colorado, John Evans, Evans was established in 1867 and was Weld County's seat of government twice before Greeley finally captured the honor. Legend in Evans is that the county records were stolen by night-riders from Greeley, who also supposedly burned the courthouse. Today, Evans, like other towns in Colorado along the South Platte River, is home to a rapidly-growing Hispanic population. Evans has several primary commercial areas located along US-85 just south of its junction with US-34, as well along 23rd Avenue and on 37th Street with new commercial areas developing as the city expands to the west and south of the South Platte River. Evans is located at 40°22′46″N 104°42′38″W / 40.37944°N 104.71056°W / 40.37944; -104.71056 (40.379310, -104.710450). According to the United States Census Bureau, the city has a total area of 3.8 square miles (9.8 km), all land. As of the census of 2000, there were 9,514 people, 3,277 households,
Compare
ACC Medlink
Here's how ACC Medlink upstages competing transportation services.
ACC Medlink Sprinter
Minivan Services
RV Services
Nurse & Two Drivers
Two professional drivers safe continuous transit
Sympathetic medical crew attending to patient needs
Compassionate bedside manners
Bedside-to-bedside service

Two drivers only
Nurse and two drivers
Safety & Reliability
Highest Medical Standards
Large fleet expertly maintained at regular schedules
Insured to meet Federal requirements
All DOT safety requirements met

Questionable safety record

RV collision and structural intregrity concerns

8" Memory Foam Mattress
8 inches of pressure free, memory foam comfort
Evenly distributes body weight
Highly energy absorbent and soft
Comfortable in any resting position

2 inch plastic mattress
Forward facing stretchers not DOT approved

Hospital-type bed
Not DOT approved for transportation
Passenger Captain's Chairs
Plush leather captain's chairs with dual armrests
No
No
Beds for Family Members
Three viscoelastic memory foam beds
Family can rest comfortably during long transports

Far too small
No
Meals & Drinks
Complimentary meals, snacks and drinks are provided

Meals and drinks provided
Meals and drinks provided
Entertainment Options
Large Flat panel HD-TV, DVD and Wi-Fi internet(on request)
Wi-Fi internet only
TV and DVD only
Bathroom
Bedside commode providing unparalleled access
Allows safest patient transfers to facilities en route

Bed pan
Small ambulatory patient bathroom
Pet Friendly
All furry & feathered companions welcomed

No
Varies
BBB Accredited
Better Business Bureau accredited with an A rating

Yes
No
Room for Proper Care
Nurses can stand & properly care for patient en route
Tight space, no head room
Room for proper care
Mercedes Engineering
Extraordinary engineering, safety and reliability
Mercedes promise of "the best or nothing"

No
No
Low Emission Vehicles
BlueTEC SCR technology
Complies with strict EPA/CARB 2010 standards

No
No
DOT Approved Vehicles
Department of Transportation inspected & approved

No
No
Spacious, Comfortable Vehicles
Best in class interior standing height
Comfortable beds for family

Cramped & uncomfortable
Spacious but lack sleeping comfort for family