The Preferred Choice in Medical Transportation
ACC Medlink was developed under its parent company, Air Critical Care (ACC), in 2010 as a long-distance, medical, ground transport company. As a long distance, nationwide, medical, ground transport company, we offer affordable, patient transfer services, in addition to air ambulance options. Since its inception, ACC Medlink's services have quickly become the preferred choice in long-distance medical ground transport. We've surpassed 10 million miles of transportation and continue to provide service to thousands of customers all over the US!
ACC Medlink stands out by providing patients with extraordinary service, and accommodating their families in comfort and in luxury. We provide 24-hour service in every city and state, nationwide.
And we always add a "personal touch," caring for each patient like family.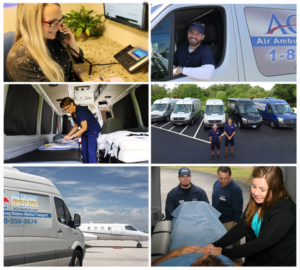 We are revolutionizing the non-emergency, medical, transport industry by utilizing some of the most cost-effective, ground transport services and equipment that are specially configured as mobile, intensive care units. Our medical vehicles are the largest, most spacious, ground transportation vehicles in the industry. ACC Medlink offers long-distance ground and non-emergency transportation, state-to-state, to-and-from hospitals, doctor's facilities, and patient's homes.
Listed here are just a few reasons why ACC Medlink has quickly become the experienced choice in medical transportation:
Large, comfortable, medical, Mercedes Sprinter Van that can accommodate our patients more comfortably versus using small medical minivans like our competitors
Largest fleet of medical transportation vans nationwide
Timely and orderly medical transporter services with a highly-qualified medical crew
Family-like care and services to help the patient feel at ease
Every detail of the transportation process arranged by our medical providers
Customized and accommodating stretcher beds
Water and snacks provided, as well as stopping for every meal
Sophisticated medical equipment aboard every vehicle
Roomy vehicles that can accommodate a patient, medical team, and family
A.D.A. patient restraint systems
On board entertainment, including a TV with a DVD player
24/7 Medical Transporter Service Coordinator