Compassionate
Care
ACC Medlink has long since recognized the need for long distance ambulance service dedicated to the delivery of caring, yet clinically distinguished patient care during medical transport. Our goal is to provide adult patients with tenderhearted care and focusing on the personal attention every customer deserves. We strive to fulfill every need that our patients desire by never compromising on service, integrity or high standard of service we have set for ourselves.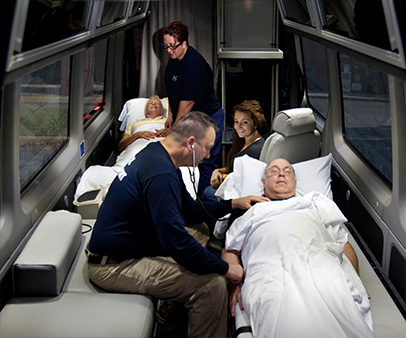 Preferred
Choice
Since its inception, ACC Medlink's services have quickly become the preferred choice in long distance ambulette transportation by offering large, comfortable vehicles that are professionally staffed with sympathetic medical crews to care for your loved one or patient.. We provide service 24/7 in every city & every state nationwide and always include our "personal touch", as we like to care for each patient as if they were our own family. ACC is BBB accredited, licensed and insured so you can rest assured you are with the most capable and reliable medical transportation service provider.
Compare
Here's how ACC Medlink upstages competing transportation services.



Sprinter

Competitor
Minivan Services
Competitor
RV Services
Two professional drivers & medical professional
Nurses can stand & properly care for patient en route
Two drivers only
Tight space, no head room
Medic and two drivers
No way to load stretcher onto RV

2-Time Safety Award winner at Fleet
World Honours
Nationwide fleet – expertly maintained
Insured beyond all Federal requirements
Questionable safety record
Questionable maintenance record
Structure not safe for passengers
Questionable maintenance record
No crash-safety requirements met
8-inch memory foam mattresses
Passenger beds DOT-approved for safety
ALL DOT safety requirements met
2-inch plastic mattress
Not DOT-approved for
medical transport
Hospital-type bed
Not DOT-approved for
medical transport
Bedside commode
providing unparalleled access
Bedpan only
Small ambulatory bathroom
Not ideal for patient transfer
Low Emission Vehicles
BlueTEC SCR technology
Complies with strict EPA/CARB standards
Not Low Emission Vehicles
Not Low Emission Vehicles
Comfort &
Safety
During this time of need, when you are seeking only the best in medical transport services, it is important to find the service provider with experience and expertise. ACC Medlink is that service provider. If it is important to you, it is more important to us. We want to earn your trust as we provide your loved one or patient the best care during their time with us. As this is a stressful time, we want to alleviate your concerns, and bring you peace of mind. ACC Medlink's transport coordinators and medical staff will assist you with every step in the medical transportation process. If you demand the best in long distance medical ground transport, call ACC Medlink for your medical transport services.
Please call us today at 800-550-1025 for more information regarding any of our long distance medical ground transport services.