Transportation
for Bariatric Patients
ACC Medlink is the leader in long distance bariatric transportation (minimum 200 miles) because we provide excellent patient care and we go the extra mile to make sure that our bariatric patients are comfortable and safe. Our luxury medical transport vehicles are large enough so that you can stand in them, and there is plenty of room for up to multiple people to sit comfortably. Family and loved ones are more than welcome to accompany the patient to their new location.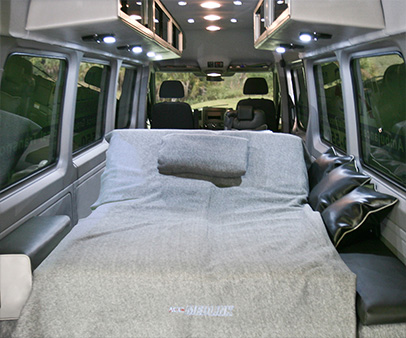 Treated
With Dignity
Bariatric patients often face discrimination and embarrassment because of their size. Obesity is a disease that affects over one-third of the adult American population. ACC Medlink provides a service that offers the patient both safety and dignity. Our Mercedes Sprinter has some unique features that make it the optimal vehicle for these types of transports.
The patient is transferred on a hydraulically powered ambulance cot with a 700 lb. capacity that raises and lowers the patient with the touch of a button.
The rear cargo doors open 270 degrees, which makes the boarding process much less stressful for the patient.
Interior beds can be pushed together to create double-wide mattress to accommodate the patient comfortably.
Compareto the Competition
Here's how ACC Medlink does better than competing transportation services.



Sprinter

Competitor
Minivan Services
Competitor
RV Services
Two professional drivers & medical professional
Nurses can stand & properly care for patient en route
Two drivers only
Tight space, no head room
Medic and two drivers
No way to load stretcher onto RV

2-Time Safety Award winner at Fleet
World Honours
Nationwide fleet – expertly maintained
Insured beyond all Federal requirements
Questionable safety record
Questionable maintenance record
Structure not safe for passengers
Questionable maintenance record
No crash-safety requirements met
8-inch memory foam mattresses
Passenger beds DOT-approved for safety
ALL DOT safety requirements met
2-inch plastic mattress
Not DOT-approved for
medical transport
Hospital-type bed
Not DOT-approved for
medical transport
Bedside commode
providing unparalleled access
Bedpan only
Small ambulatory bathroom
Not ideal for patient transfer
Low Emission Vehicles
BlueTEC SCR technology
Complies with strict EPA/CARB standards
Not Low Emission Vehicles
Not Low Emission Vehicles