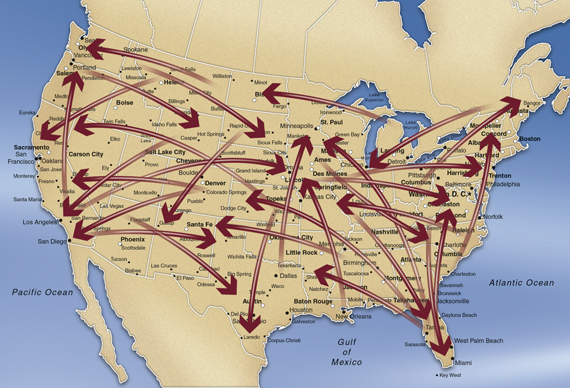 The time may come when State to State Medical Transport is needed for a family member. A trip of this type can be very complicated and require careful planning to ensure everything runs smoothly. This type of service differs from regular ambulance transport, and your loved one will be receiving specialized care while traveling, but various things must be coordinated before the trip may take place. What must you consider when arranging transport of this type?
Special Features
Some patients need to be strapped on a stretcher with oxygen provided continuously. Others require little medical care, yet wish to be able to move around while traveling. The family will need to determine what features their loved one needs and choose a state to state medical transport based on this. Some transport services provide meals and snacks while others offer a service that provides special foods for the patient based on a medically ordered diet. Take this into consideration when selecting a service.
Crew Members
Depending on the level of care needed, the service must provide the appropriate personnel for the state to state patient transport. A paramedic may provide advanced life support and cardiac monitoring, but an LPN can take on more tasks. A registered nurse is often called in for a long distance medical transport requiring someone trained in critical or intensive care. The attendants needed are determined when the patient's condition is assessed.
Coordination Of Care During The Trip
Before State to State Medical Transport can be ordered, facilities must be contacted to ensure they have space for the patient. In addition, medical professionals at both facilities must speak to ensure they understand the care of the patient, what has been done, and what remains to be handled. Patients may need medication during the trip, and this must be secured and provided to the transport company. In addition, all doctors must sign off on the transfer before it can actually occur. Many services now handle this part of the process, but it may be left up to the patient's family, making this one question which needs to be asked.
Comfort Of The Patient
The long distance medical transport company needs to ensure the comfort of your loved one during the trip. Determine if family members are allowed to travel with the patient and what restrictions have been placed on them doing so. In addition, find out about the accommodations for the patient. You'll want to learn about the type of transport to be used, the mattress or wheelchair the patient will be provided with, and how the trip will be customized to meet the needs of the patient. Some patients need to be able to move around at times to ensure they don't become stiff while others do best when left in a prone position. Make sure the transport service can accommodate your loved one in every way.
Before hiring a state to state elderly transport service or one designed to transport a patient with medical issues, plan carefully. The needs of the patient must remain paramount at all times, and this is not a one size fits all service. Speak with those involved in the patient's care as they can assist you in choosing a company. The more you know, the easier it is to find the right transport every time.