Long Distance Transportation

for the Elderly
ACC Medlink is the leader in long distance senior transportation (minimum 200 miles) because we provide excellent patient care and we go the extra mile to make sure that our elderly patients are comfortable and safe.
Our luxury medical transport vehicles are large enough so that you can stand in them, and there is plenty of room for up to seven people to sit comfortably. Family and loved ones are more than welcome to accompany the patient to their new location.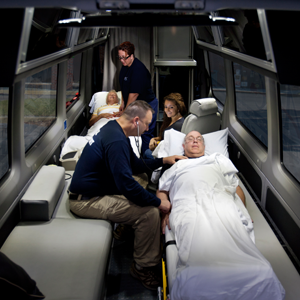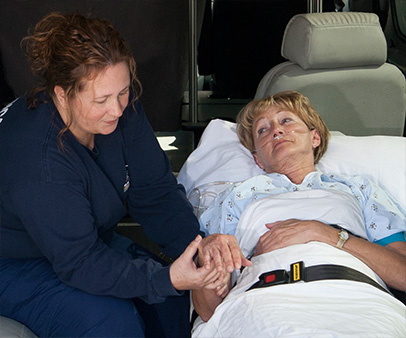 Treated
Like Family
Many families who have used our elderly transportation service tell us that they appreciate the extra care that we provided to their family member who was transported by our team. There is great satisfaction in knowing you've done your job well and served your clients' interests. It gives us particular satisfaction when our clients take the time to acknowledge their satisfaction by providing ACC Medlink with their testimonials as we like to care for each patient as if they were our own family.
Compareto the Competition
Here's how ACC Medlink does better than competing transportation services.



Sprinter

Competitor
Minivan Services
Competitor
RV Services
Two professional drivers & medical professional
Nurses can stand & properly care for patient en route
Two drivers only
Tight space, no headroom
No room for proper care
Medic and two drivers
No way to load stretcher onto RV
No room for proper care
2-Time Safety Award winner at Fleet
World Honours
Nationwide fleet – expertly maintained
Insured beyond all Federal requirements
Questionable safety record
Questionable maintenance record
Structure not safe for passengers
Questionable maintenance record
No crash-safety standards required
8-inch memory foam mattresses
Passenger beds DOT-approved for safety
ALL DOT safety requirements met
2-inch plastic mattress
Not DOT-approved for
medical transport
Hospital-type bed
Not DOT-approved for
medical transport
Custom Bedside commode
providing unparalleled access
Bedpan only
Small ambulatory bathroom
Not ideal for patient transfer
Low Emission Vehicles
BlueTEC SCR technology
Complies with strict EPA/CARB standards
Not Low Emission Vehicles
Not Low Emission Vehicles
Interstate Elderly Transport Serivce
If you or a loved find yourself in need of long distance senior transport ACC Medlink is the right choice for you. Our goal is to provide the safest and most cost effective service for people needing long distance elderly transportation.
We can comfortably transport elderly people with a wide range of medical conditions. We have many years of experience transporting seniors with the following conditions and many more:
Cancer
Parkinson's
Dementia
Hip Fractures
Strokes
Alzheimer's
Our number one desire is to remove the anxiety associated with long distance elderly transport. We do this everyday and recognize the stress transporting an medically need elderly person long distances can put on people involved in the process. Making one call to our transport coordinators will help alleviate that and you can rest assured that everything will be taken care of in the most professional manner. If someone would like to travel with the person being moved then that is great and we actually encourage it. Additional family members can come along at no extra expense. We pride ourselves on the level of service we provide and we do go above and beyond to make sure every transport goes smoothly.