ACC Medlink is committed to the safety and health of all our patients and crew. Given the coronavirus's unfortunate spread, we recognize the need for extra vigilance and care for the safety and well-being of our patients and staff. We continuously adapt and review our Covid-19 policy and procedures according to the latest government guidelines.
We go above the CDC guidelines and sterilize all equipment including our transport vans with approved chemicals and UV Light.
CLEANING AND DISINFECTANT PROCEDURE
We maintain a stringent cleaning protocol for our premises and vehicles, with increased cleaning in high contact areas and direct-contact areas.
The interior of our vans are cleaned continuously and sterilized with an approved disinfectant.
We subject the interior of our medical transport vehicles to UV light treatment to maintain hygiene and kill any remaining viruses.
We have provided hand sanitizers and disinfectant wipes in our vehicles for easy cleaning and disinfectant of surfaces.
Where possible and safe to do so, we ensure our vehicles' windows are open to promote continuous airflow and circulation.
These protocols are repeated after each use and/or as needed.
OUR STAFF
Our entire staff and transporter crew are subjected to weekly Covid-19 tests using an approved 15-minute rapid testing kit we have on-site.
Temperature checks are carried out on all our staff members on arrival.
Every member of our staff adheres to strict social distancing measures where possible.
Any member of our staff who show any signs of Covid-19 will be Covid tested with our rapid test kit.
Our transport crew wear masks and hand gloves in line with CDC and official government guidelines.
Our staff are also instructed to regularly wipe and disinfect surfaces and use hand sanitizers before and after leaving our vans.
OUR PATIENTS
Our patients are subject to temperature checks before transport.
We provide sanitizers and disinfectant wipes for our patients and ensure any luggage or bags they carry are wiped and disinfected thoroughly.
Patients who have tested positive for Covid-19 must present a negative test result before we transport them. Speak with our transport coordinators about our 15 minute rapid test.
If a friend or family accompanies a patient, they must adhere to all our covid19 protocols, including the use of face masks, temperature checks, and regular use of hand sanitizers..
We do not transport Covid positive patients and do offer a 15 minute rapid result covid test. Please ask one of our transport coordinators for details.
ACC Medlink has more safe miles driven than any Long Distance Medical Transport service. We will always work to that high standard and look forward to safely and conveniently transporting patients through our wide range of medical transportation services safely and Covid free.
The Stryker Power-PRO XT Stretcher
Medical transportation is an essential component of effective healthcare delivery. Patients often depend on the services of a reliable medical transport service provider in order to make it to traverse without the need to worry about their safety. Without these special transport caregivers, many aged, physically impaired, chronically ailed, and severely injured patients would be unable to get medical attention on time.
When choosing a medical transport service provider, you must ensure to choose one that not only focuses on getting you to your destination, but also prioritizes using the safest, most conducive, and most efficient sets of vehicle fleets and equipment to do the job. That is why many riders choose ACC Medlink Transportation Services.
With ample years of experience in the industry, we understand the intricacies of patients' pain points. So, we always make it a priority to provide our riders with the best care, safety, and comfort. Our goal is to ensure that patients receive the highest quality care and service every time they ride with us.
One of the ways we achieve this is by incorporating state-of-the-art equipment like Stryker Power Loading Systems and other advanced medical technologies on all of our equipment and vehicle fleets. Through these innovative technologies, we are able to provide patients with the level of care and high-quality service that is synonymous with our brand while transporting them interstate or long distances.
What is Stryker Power-PRO XT Loading System?
Stryker's Power-PRO XT loading system features a powerful and innovative battery-powered hydraulic system capable of lifting and lowering patients using simple touch controls. The technology is designed to drastically reduce strain on patients when lifting, lowering, or conveying them, especially during entry or exit of the vehicle.
In the past, medics have reported frequent spinal complications due to the high levels of discomforts that patients experience as a result of the effects of unpleasant repetitive motions associated with lifting, bending, lowering, carrying, etc.
Thankfully, the Stryker Power-PRO XT stretcher provides more safety, as it has proven effective against spinal loading and other known risks associated with back injuries when conveying patients. Because of this, our company incorporates Stryker's Power-PRO XT loading system and a range of other cutting-edge technologies as part and parcel of our entire vehicle fleet.
Stryker's Power-PRO XT stretcher technology sets the standards for superior performance and exceptional ergonomics. It comes service-ready, with an easy-to-use, manual, backup provision designed for seamless cot operation even in the event of power loss.
This loading system offers maximum versatility and also provides high-speed retract functionality, which increases safety and reduces load and unload times. Altogether, Stryker Power-PRO raises the benchmark for what the medical transport industry standard of care should be.
Key Features of Stryker Power-PRO XT
The Stryker Power-PRO XT powered ambulance cot is designed to reduce the risks of backloading and other forms of back injuries for both the patient and caregiver. Here are some of its most outstanding features:
Dedicated head-and-foot-end Lift-and-Grip Handles — Adjustable up to 30o or more for a greater optimized experience.
Foldable Siderails — Provides max security for patients during conveyance.
Foot-end Controls — Duplicated on both lower and upper lift bars for a more flexible experience during operation.
Full-width Adjustable Load Height, with jog function — Can be adjusted to fit different vehicles.
Portable Power Back-up System — Easy-to-use and handy in the event of power loss if the battery is poorly charged.
Pneumatically-assisted Backrest — Designed to increase patient's comfort while reducing operator's effort significantly.
Wheel Locks — Optimized to hold cot in position, and also facilitates safer patient transfers.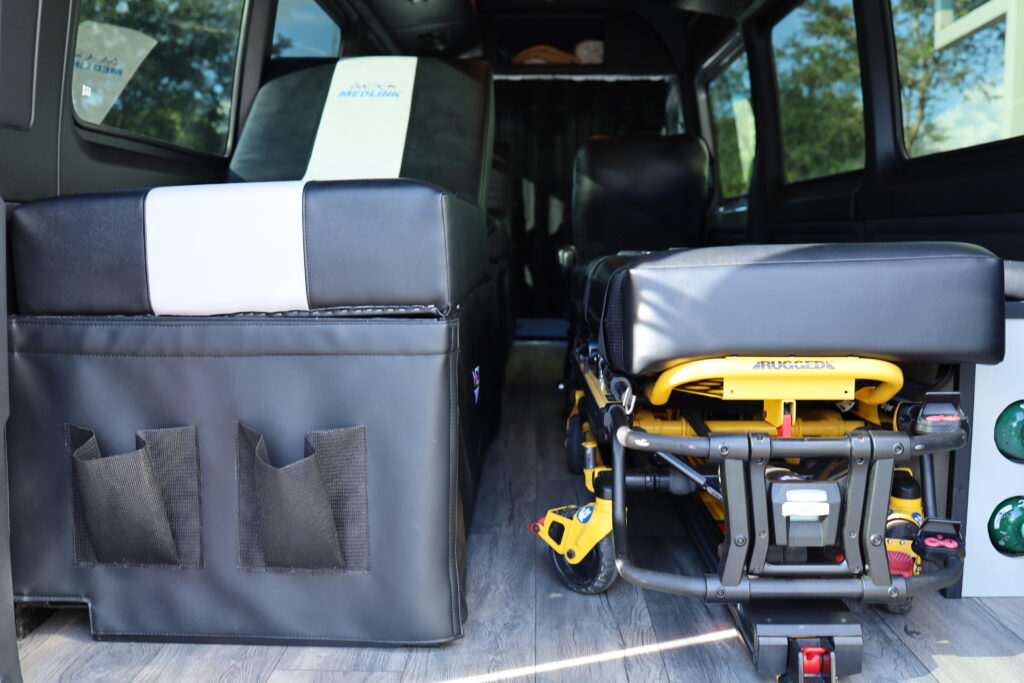 Why Patients Trust Stryker Power-PRO XT's Ambulance Cot?
Safety — Stryker's Power-PRO cot provides maximum safety to patients both at rest and in transit.
Comfort — With Stryker Power-PRO XT loading systems, you can rest assured of enjoying maximum levels of comfort throughout.
Pneumatic Support — Stryker Power loading systems are tested and endorsed by world-renowned pneumatic specialists. They provide additional pediatric support to patients.
Ease — This technology provides patients with the most effortless cot entry and exit experience.
Quality Assurance — Stryker loading systems are developed and tested by top-class industry experts. Each component and the final product is quality assured. Patients can rest assured of zero back injuries and greater levels of comfort and safety.
When choosing a medical transport service provider, it's important to choose one that also prioritizes your comfort and safety, rather than merely getting you to your destination.
ACC Medlink is the medical transport provider of choice for patients in the United States because we incorporate cutting-edge equipment like Stryker Power-PRO XT Loading Systems and other advanced medical technologies on all our vehicle fleets. This way, our patients receive the best Comfort, Safety, and Care throughout transit. Contact us for more information regarding our services, or to schedule an appointment. We are always delighted to hear from you.