A Step
Above the Rest
Our patient transport services at ACC Medlink are a step above the rest. We have become leaders in the field of medical transport services because of the extra steps that we take for our patients and their families. If you need long distance medical transportation services (minimum 200 miles) for a patient or loved one, you can call us for a quote at 800-550-1025.



Caring Patient
Transport Services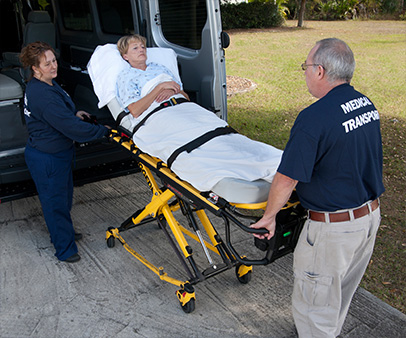 At ACC Medlink, our patient transport services are provided by caring transport specialists. Whereas our competitors often have two drivers only, we have a nurse and two drivers accompany our patients. Two professional drivers drive straight through to reach the patient's destination quickly and safely. We treat our patients as family, with compassionate bedside manners. Patients ride in a Mercedes-Benz Sprinter medical transport vehicle with extraordinary engineering, safety, and reliability.
Compareto the Competition
Here's how ACC Medlink outshines competing patient transport services.



Sprinter

Competitor
Minivan Services
Competitor
RV Services
Two professional drivers & medical professional
Nurses can stand & properly care for patient en route
Two drivers only
Tight space, no headroom
No room for proper care
Medic and two drivers
No way to load stretcher onto RV
No room for proper care
2-Time Safety Award winner at Fleet
World Honours
Nationwide fleet – expertly maintained
Insured beyond all Federal requirements
Questionable safety record
Questionable maintenance record
Structure not safe for passengers
Questionable maintenance record
No crash-safety standards required
8-inch memory foam mattresses
Passenger beds DOT-approved for safety
ALL DOT safety requirements met
2-inch plastic mattress
Not DOT-approved for
medical transport
Hospital-type bed
Not DOT-approved for
medical transport
Custom Bedside commode
providing unparalleled access
Bedpan only
Small ambulatory bathroom
Not ideal for patient transfer
Low Emission Vehicles
BlueTEC SCR technology
Complies with strict EPA/CARB standards
Not Low Emission Vehicles
Not Low Emission Vehicles