Moving cargo and a bunch of commodities over long distances is mostly straightforward. However, the same can't be said of moving people who need to get to their destination safely and conveniently. Besides, when patients are involved, it's important to ensure they are well looked after.
Long distance medical transportation services exist to provide vehicles, and other means of transportation people can count on for medical related purposes. Before you engage one, check out these five attributes a world-class service provider must have.
Trained, Committed Staff and Chances for Growth

With the rising number of medical transport service providers, you'd be forgiven for trusting any service you come across. However, you probably want what's best for you or a loved one.

That's why an attribute you must consider is the training process and practical tests the staff go through. Do they have a culture of continuing education, or is it a bust for current staff?

Further, staff must have a culture of safety and best practices, irrespective of the size and scope of the transportation. Moreover, it's easier for patients and their families to trust capable hands.

Adequate Fleet and a Culture of Maintenance

A fleet of modern vehicles fit for purpose is another pointer towards a world-class medical transport provider. Not just that, but a maintenance culture ensures that the vehicles are always in pristine condition. Trusting a service that will repair or maintain vehicles only when you call is no use.

A good maintenance culture keeps the vehicles tuned and even reduces the occasional costly breakdowns. You don't want a situation where you or a loved one is stranded. You can avoid that with a proper long-distance medical transportation provider.

Proper Lift and Transfer Technique

A bad lift technique or mechanism doesn't just happen by itself. It's a combination of factors, including having poorly trained staff. Besides, a bad lift technique can lead to injury to the EMTs, or worse, to the patient. At world-class long distance medical transportation services, all EMTs lift correctly every time.

In addition, the EMTs and other professionals apply the best lift practices. Some of them include countdown before the lift, lifting together in one continuous motion, proper posture, and never lifting the patient alone. Generally, patient safety is paramount.

Medical Direction/Supervision from a Local Hospital

No matter how carefully set up a medical transportation provider is, it's always advisable to follow every protocol. That includes clinical supervision of a hospital, especially for Specialty Care ambulance transportation (SCT) services.

A team of nurses and physicians must oversee all SCT activities. The link to local hospitals can prove useful in times of emergencies.

Comprehensive Vehicle Tracking System

Tracking systems are increasingly important because they allow you to view vehicle locations in real-time. Monitor traveling speeds and receive alerts for potential hard stops, weather, and other conditions. This way, drivers are always ahead of the curve and free from blind spots. It's also a means to keep the drivers honest.
Rounding Up…
Trusting a long distance medical transportation service comes at no steep cost when the above attributes are present. It would be best to have knowledgeable professionals, quality vehicles, professional direction, and other conditions in place. That will assure families of smooth transportation for their loved ones.
Many people struggle to find a suitable non-emergency medical transportation (NEMT) service that will allow them travel interstate for medical visits. It is tempting to go on a road trip with a loved one on the wheels when you have a medical appointment in another state. 
However, issues may arise that neither of you can handle properly. Therefore, investing in a state-to-state medical transportation service appears to be the ideal option when making interstate medical trips. Here are four important reasons why you should patronize this service: 
1. Peace of Mind 
Nothing beats the joy of knowing you or your loved ones are safe, especially when traveling with state-to-state medical transportation services. NEMT firms provide training for their employees on managing medical emergencies. They also install GPS trackers on the vehicles to keep tabs on the progress of the medical trips. 
Hence, loved ones can be sure that the clients have reached their destination in time and without issues. Consequently, they will have peace of mind, which boosts the family's well-being. 
2. Better Health Outcomes 
Patronizing a state-to-state medical transportation service helps clients avoid no-shows for their medical appointments. During medical trips, drivers are tasked with monitoring the client's medical status on a round-the-clock basis. 
In addition, the vehicle is equipped with vital medical devices to prevent complications that may develop due to a medical condition. Similarly, research shows that diabetic patients in need of wound care can attend a monthly average of 5.5 treatment sessions when NEMT service is patronized as opposed to a monthly average of 1.3 treatments when NEMT service is unavailable. 
Also, patients can now visit hospitals far away from home for various medical procedures due to state-to-state medical transportation services. This translates to improved health outcomes. 
3. High-quality Care  
Top NEMT firms offering interstate medical transportation services ensure their employees have industry-level training on patient care while in transit to medical facilities. The drivers are skilled at mental health transport and managing traumatic brain injuries. They also have a broad knowledge of hospitals and clinics in different states.
In addition, they are trained to monitor the medical condition and provide basic medical assistance when necessary. NEMT vehicles are equipped with installations that allow for the safe transport of non-ambulatory patients, especially those using wheelchairs. All in all, top NEMT firms are dedicated to the highest level of care and prioritize safety and comfort. 
4. Increased Comfort  
NEMT services make state-to-state medical transportation more bearable and less stressful for clients. Employees usually assist clients from the residence into the NEMT vehicles. They also ensure that clients get into the medical facility safely.
Furthermore, clients can book rides from the comfort of their homes. They can also customize NEMT services to meet their needs. However, interstate medical trips are boring and uncomfortable due to the long hours on the road. NEMT ensures that clients find the vehicle convenient and relaxing. 
Conclusion 
Taking advantage of the services of a state-to-state medical transportation service is beneficial for those who want optimized medical care and supervision while in transit across various state lines. NEMT services not only guarantee peace of mind but also ensure that they receive excellent care, have better health outcomes, and are more comfortable without having to break the bank.
Medicaid and Medicare beneficiaries are lucky to have several medical procedures and services covered by these healthcare schemes. Unfortunately, they still have several obstacles that hinder their access to medical care.
A significant example of these hindrances is the lack of transportation. According to a national survey in the United States, an estimated 3.6 million people delay or do not show up for their medical appointment due to inadequate transport options.
NEMT or Non-emergency Medical Transportation helps make transportation accessible to people who have no other means of getting to their medical appointments, especially those who are disabled or elderly. Besides, some have chronic diseases like cancer, obstructive pulmonary disease, diabetes, and kidney diseases. 
In addition, clients with these medical conditions need to visit their healthcare providers for regular checkups and treatment. Unfortunately, limited transportation options can deny these people access to life-saving care and medical management. Similarly, lack of non-emergency medical transportation options seems to have a ripple effect on health status and the cost of care.
Missing medical appointments aggravates the effect of poor health conditions and leads to an increased need for pricey emergency transportation and excessive ER visits. Furthermore, the influence of NEMT in eliminating the need for medical emergency services demonstrates the cost-effective nature and importance of this service.
People who have medical conditions affecting their mental health will also find non-emergency medical transportation valuable. A recent study reports that most NEMT clients used the service to access psychological treatments. Similarly, 40% of NEMT Clients in New Jersey and 30% of NEMT clients in Nevada attended medical appointments for substance abuse treatment when they used the service.
The major stakeholders in the healthcare industry – the patients and the providers – are beginning to understand that improving the overall health and wellbeing of a particular population goes beyond clinical care.
A 2015 study shows that clinical care contributes only about 10 to 20% to healthcare outcomes, while the remaining influential factors involve socioeconomic status, health behaviors, and physical environment.
As mentioned earlier, lack of transportation has a detrimental effect on a population's health status and increases the cost of hospitalization. In light of this, the American Hospital Association conducted a study to evaluate the factors contributing to inadequate transportation. These factors include:
1. Availability of Vehicles: 
A recent study shows that people with access to private transportation are less likely to miss a medical appointment than those who depend on public transportation. Besides, private NEMT organizations are committed to delivering excellent services. Therefore, they ensure that clients have a vehicle available whenever a medical visit is around the corner.
2. Affordability: 
The prohibitive cost of some NEMT services may discourage people low -income earners from using the service. Fortunately, Medicaid covers non-emergency medical transportation to some extent. 
Communities with improved transit systems are more likely to experience better healthcare outcomes. Furthermore, a good transportation network and facilities enhance health equity among people living in a community.
4. Location and distance from healthcare facilities: 
Although top NEMT firms offer long-distance medical transportation, others are ill-equipped to handle long-distance trips. However, a previous study reported a direct relationship between poorer health outcomes and the distance of the medical facility to a patient's residence.
The aforementioned factors determine the groundwork for ensuring that the demand for NEMT tallies with the availability of transportation means. Also, policymakers need to ensure that the NEMT demand-supply issue improves in small communities before reaching out to big cities.
Conclusion
The role of non-emergency medical transportation in improving healthcare outcomes has been underestimated for so long. However, public health experts have recently assessed the benefits of this service to communities, and its necessity has been proven beyond doubt. Therefore, governments are encouraged to make NEMT more accessible to the masses by providing subsidies and supporting private NEMT firms.
Every patient planning to embark on a long-distance medical transportation faces several challenges in finding a service provider who will meet their needs.
Fortunately, you can avoid the potential downside of spending above your budget while prioritizing your safety and comfort by making a few key considerations.
Below are the top 4 considerations you should make when selecting a long-distance medical transportation company:
1. Prioritize Safety and Privacy:
Before choosing a medical transport company, you should ask questions concerning their safety practices and protocols.
Reputable long-distance medical transportation companies always prioritize safety above all else. They ensure drivers undergo a background check and CPR training. 
One is expected to have a valid driver's license and a clean driving record before being employed as a driver at any top medical transport firm. Medical assistance must also be on standby during a long-distance medical trip, especially when the client is elderly.  Aside from ensuring drivers have CPR certifications, medical transport companies train their employees on first-aid measures, thus enhancing their readiness for emergencies. 
Safety and privacy often go hand in hand. Hence, drivers and medical assistants are instructed on adherence to the privacy standards established by the Health Insurance Portability and Accountability Act (HIPAA).
If you are not prepared, the cost of medical transport services could break the bank- especially if you do not have insurance coverage. In addition, the price of these services varies from one company to the other. Therefore, it is in your best interest to request price lists from various service providers. 
After obtaining the price quotes, you can compare them and factor in the cost of long-medical transportation when drawing up your budget. Getting a price list may also reveal the fact that there may be some charges not explicitly stated.
Therefore, you should direct more questions to the service provider in the hope of finding if the trip duration and the type of medical transport affect the overall cost.
3. Ask if they are well-equipped to manage emergencies
The best medical transportation firms can respond in emergency and non-emergency scenarios. They have a team of professionals that provides top-level care under difficult situations.
Equipped with state-of-the-art medical equipment, long-distance ambulances are convenient and comfortable for clients.
It is difficult to predict if an accident will happen or not. In addition, doubts may arise when traveling with a long-distance ambulance that has sparse safety equipment and lacks the presence of emergency-ready employees.
Therefore, patients are advised not to use the service providers' reviews as the only yardstick to judge if they can handle emergencies.
A good firm that offers long-distance medical transportation services ensures its staff is well-trained in first-aid and basic emergency procedures. They also understand that the clients' needs come first. Hence, they implement measures for their patient's comfort, convenience, and safety, even when an emergency arises.
4. Make sure a trained medical escort will be onboard
It is a known fact that not every patient needs round-the-clock monitoring when traveling in a long-distance ambulance. However, some patients require extra medical care during their journey.
For instance, a patient with a life-threatening medical condition like congestive heart failure or cystic fibrosis would need an escort to handle his/her medical needs. 
The best long-distance medical transportation companies guarantee a worry-free medical trip by ensuring they have well-trained staff and medical escorts onboard every trip.
Conclusion
Like every business, the desires and needs of the patients should determine what a medical transport company should offer. Safety and privacy is the most common desire of every client patronizing service providers specializing in long-distance medical transportation.
Clients also need to look out for hidden charges, ask about having a medical escort on the trip and how the company plans to manage emergencies.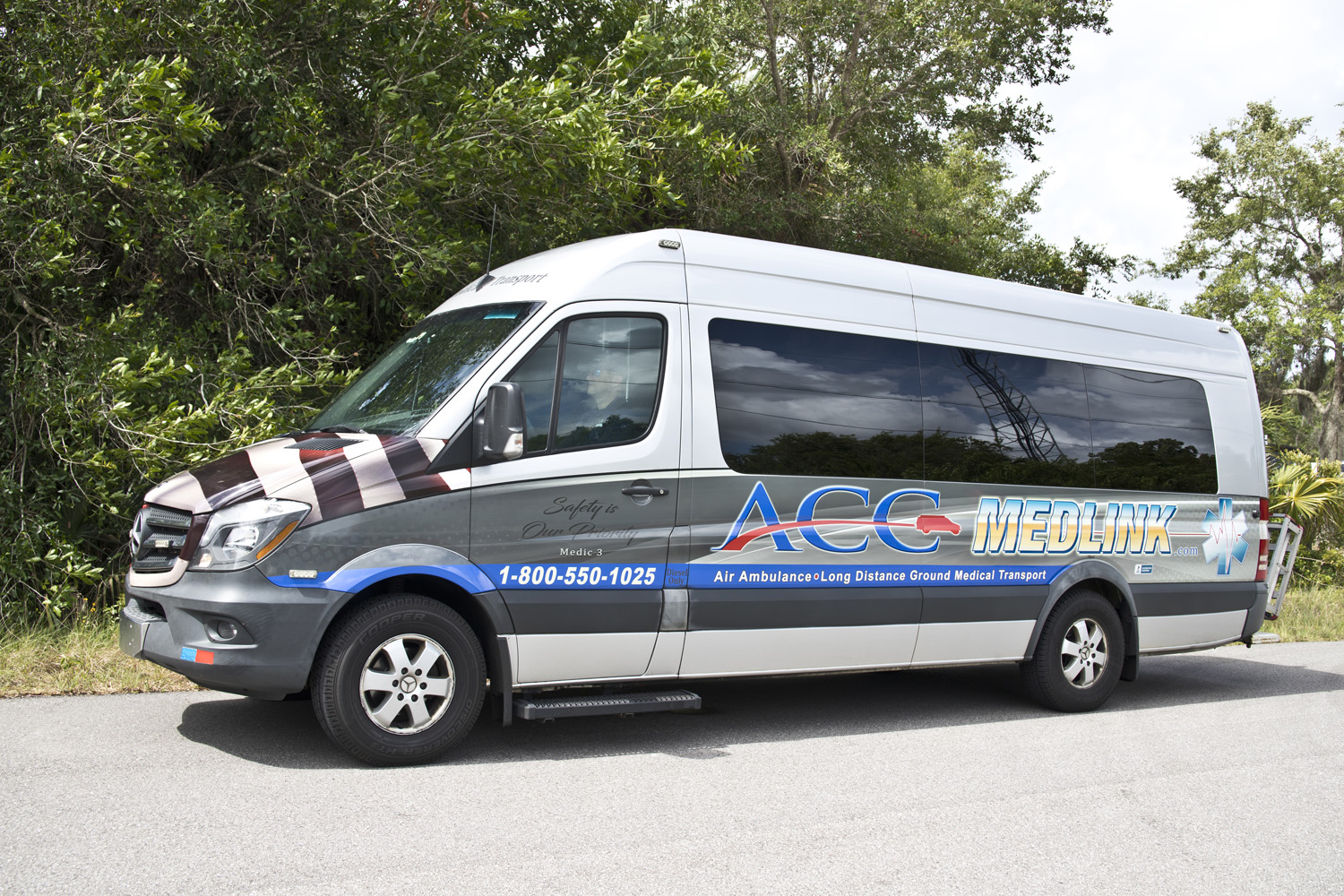 ACC Medlink is proud to announce the addition of a new med sprinter to our long distance medical transport fleet. This addition will continue to allow us to provide superior service and outstanding care for those in need of medical transport out of state. Our med sprinters are state of the art long distance medical transport vehicles. They are staffed with an experienced, compassionate and professional medical staff who value nothing more than patient care and safety. If you or a loved one is in need of interstate medical transport then please contact one of our long distance medical transport coordinators at (800)550-1025 to get all of your questions answered.