Many people struggle to find a suitable non-emergency medical transportation (NEMT) service that will allow them travel interstate for medical visits. It is tempting to go on a road trip with a loved one on the wheels when you have a medical appointment in another state. 
However, issues may arise that neither of you can handle properly. Therefore, investing in a state-to-state medical transportation service appears to be the ideal option when making interstate medical trips. Here are four important reasons why you should patronize this service: 
1. Peace of Mind 
Nothing beats the joy of knowing you or your loved ones are safe, especially when traveling with state-to-state medical transportation services. NEMT firms provide training for their employees on managing medical emergencies. They also install GPS trackers on the vehicles to keep tabs on the progress of the medical trips. 
Hence, loved ones can be sure that the clients have reached their destination in time and without issues. Consequently, they will have peace of mind, which boosts the family's well-being. 
2. Better Health Outcomes 
Patronizing a state-to-state medical transportation service helps clients avoid no-shows for their medical appointments. During medical trips, drivers are tasked with monitoring the client's medical status on a round-the-clock basis. 
In addition, the vehicle is equipped with vital medical devices to prevent complications that may develop due to a medical condition. Similarly, research shows that diabetic patients in need of wound care can attend a monthly average of 5.5 treatment sessions when NEMT service is patronized as opposed to a monthly average of 1.3 treatments when NEMT service is unavailable. 
Also, patients can now visit hospitals far away from home for various medical procedures due to state-to-state medical transportation services. This translates to improved health outcomes. 
3. High-quality Care  
Top NEMT firms offering interstate medical transportation services ensure their employees have industry-level training on patient care while in transit to medical facilities. The drivers are skilled at mental health transport and managing traumatic brain injuries. They also have a broad knowledge of hospitals and clinics in different states.
In addition, they are trained to monitor the medical condition and provide basic medical assistance when necessary. NEMT vehicles are equipped with installations that allow for the safe transport of non-ambulatory patients, especially those using wheelchairs. All in all, top NEMT firms are dedicated to the highest level of care and prioritize safety and comfort. 
4. Increased Comfort  
NEMT services make state-to-state medical transportation more bearable and less stressful for clients. Employees usually assist clients from the residence into the NEMT vehicles. They also ensure that clients get into the medical facility safely.
Furthermore, clients can book rides from the comfort of their homes. They can also customize NEMT services to meet their needs. However, interstate medical trips are boring and uncomfortable due to the long hours on the road. NEMT ensures that clients find the vehicle convenient and relaxing. 
Conclusion 
Taking advantage of the services of a state-to-state medical transportation service is beneficial for those who want optimized medical care and supervision while in transit across various state lines. NEMT services not only guarantee peace of mind but also ensure that they receive excellent care, have better health outcomes, and are more comfortable without having to break the bank.
Although the thought of being transported in a large RV Motorhome vehicle with a built in restroom
Sounds ideal. There are many considerations that should be made especially considering safety.
Did you know that RVs are not DOT approved for medical transportation?
RV Motorhomes are basically stick homes built on top of a truck chassis. An accident in one could cause injuries and death to many.
RVs or Class A motorhomes are not subjected to the same extensive crash worthiness safety requirements as automobiles.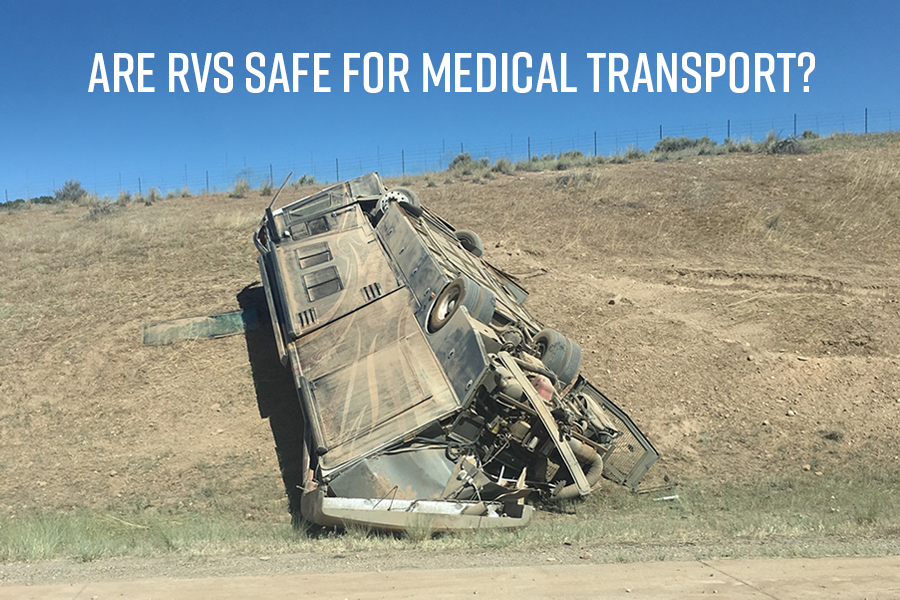 "The typically relatively small Class A motor home builder will then essentially build a stick-built home on top of that truck chassis. Unlike the extensive crash worthiness safety requirements for automobiles, the RV manufacturers may have little or no legal crashworthiness standards which apply to their work."
(HENNING, 2013)
---
ACC Medlink™ offers long distance medical vans, which are fully equipped to meet your needs and ensure the most comfortable ride. Whether the patient can sit up or is restricted to a bed, our staff will make the necessary accommodations. We can even accommodate several family members and pets.
Our Mercedes Sprinter transporters are the only DOT vehicles in the entire industry approved for this type of transport.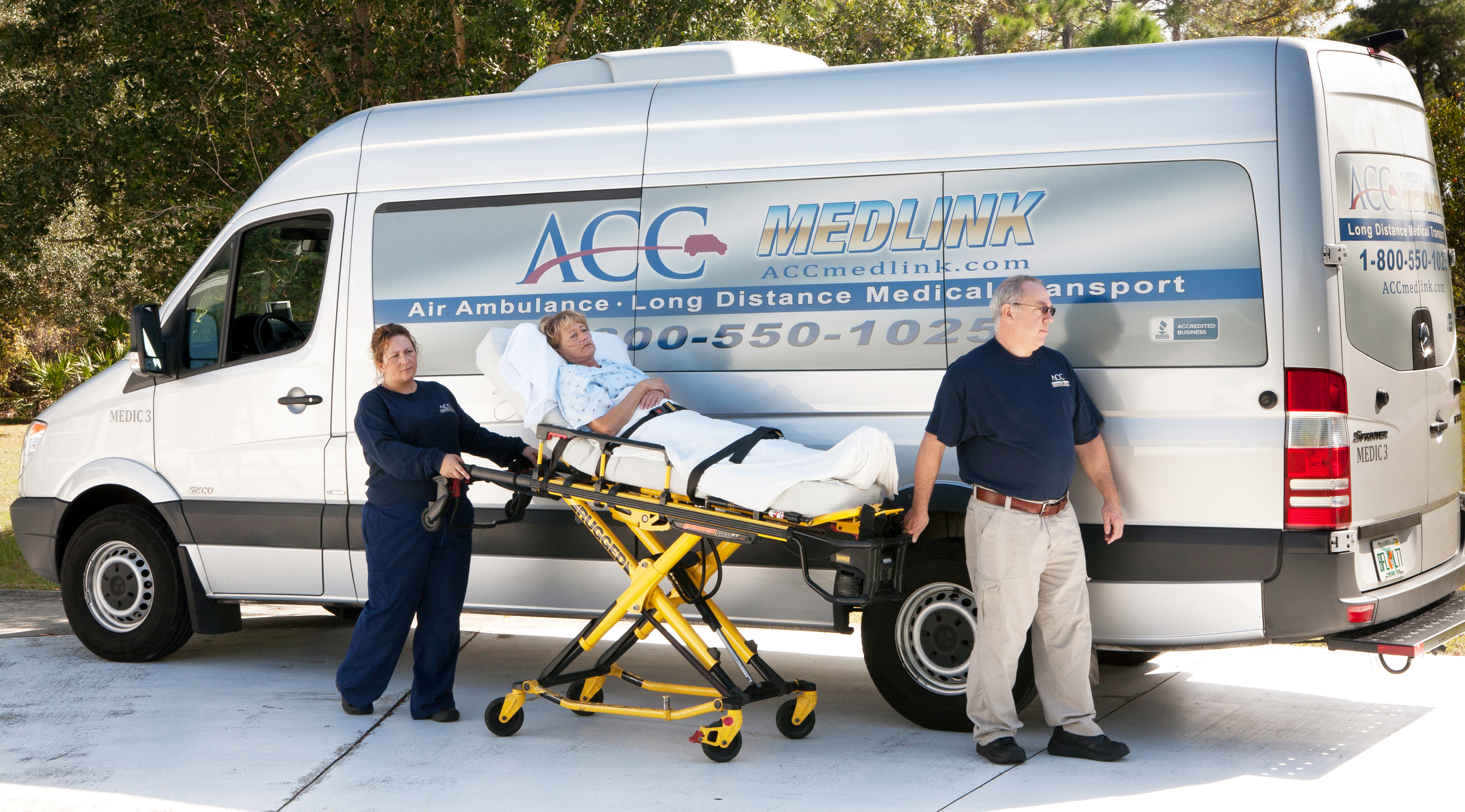 ---
Any and all entities conducting interstate passenger transportation must be registered as a Federal Motor Carrier.