Illinois Long Distance
Medical Transport
ACC Medlink is the leader in state to state medical transportation offering transport from Illinois to any other city in the U.S., (200 miles or more) using large, comfortable vehicles that are professionally staffed with our licensed medical crew to care for your loved one.
Our medical vehicles are equipped with the latest in entertainment technology as well as three beds to accommodate family when loved ones are traveling together.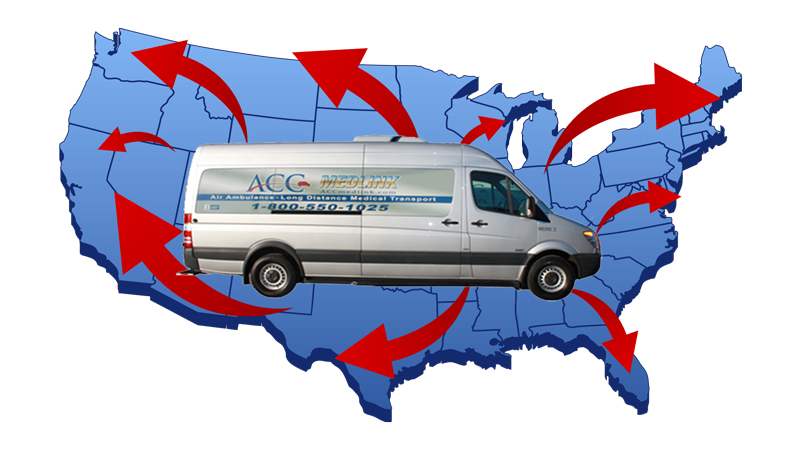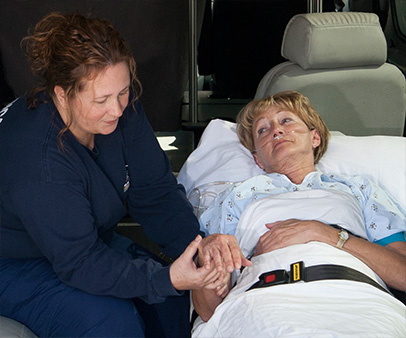 Medical
Professionals
Our expert interstate medical transport crew consists of Registered Nurses and Paramedics that have expertise in caring for patients with a wide variety of conditions.
We provide timely transportation with an emphasis on caring, personalized attention. Our medical transport team is prepared to take care of the entire transportation process for you by providing you with the same level of care that we would provide to our own families.
The
Family of Services
Our range of transportation services deliver only the highest level of patient care.



Non-Emergency


Medical Transport

Nationwide State to State

Our non-emergency medical transport services are brought to you by highly-qualified staff members who are not only prepared to provide transportation services, but also to assist with necessary personal hygiene and comfort requirements of patients who must travel long distances.
Read More




Long Distance


Ambulance

Bedside to Bedside Service

We've long since recognized the need for long distance ambulance and patient transport services dedicated to the delivery of compassionate, yet clinically-distinguished medical care during medical transports. ACC Medlink's goal is to provide the personal attention that every customer deserves.
Read More




State to State


Medical Transport

Every City & State Nationwide

We offer state to state medical transportation in state-of-the-art medical transport vehicles. ACC Medlink's interstate vehicles are built for comfort and are equipped with the latest in entertainment technology as well as three beds to accommodate other members of the family traveling together.
Read More



Senior


Transportation Service

Transportation for the Elderly

We are the leader in long distance senior transportation for many good reasons. That's because we provide excellent patient care and we go the extra mile to make sure that our elderly patients are comfortable and safe.



Patient


Transport Service

A Step Above the Rest

Our services are provided by caring transport specialists. Whereas our competitors often have two drivers only, we have a nurse and two drivers accompany our patients to ensure continuity of care throughout the trip.
Illinois Popular Places to Travel