The Very Best
Non-Emergency Medical Transportation Available
ACC Medlink offers the very best service in nationwide long-distance and non-emergency, medical transportation (NEMT), ground services. We have an excellent team of drivers, patient care managers, and management staff. They work together to provide you with the most complete bedside-to-bedside service.
When our highly-qualified, medical staff picks up the patient, they are fully aware of any special needs they may have. With any and all of their needs, a patient may receive oxygen, a stretcher, or a walker.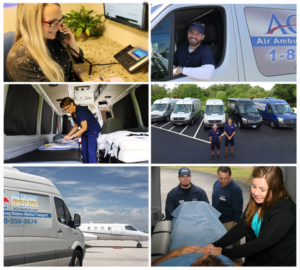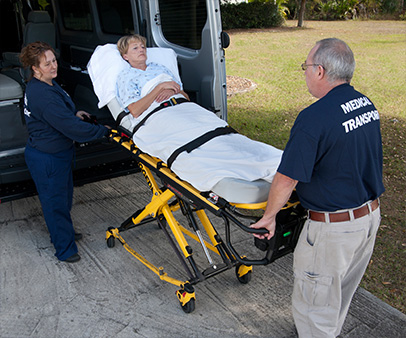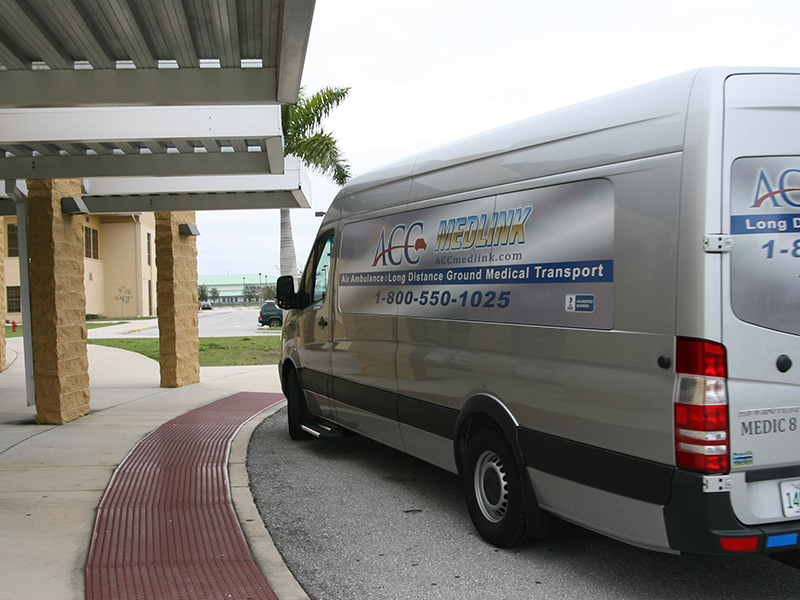 Non-Emergency Medical Transportation

To and From:
Hospitals
Assisted Living
Rehab Facilities
Hospice
Nursing Homes
Pediatric Units
Medical Facilities
Residence
Non-Emergency Transportation for
Those Who Are:
Sick
Elderly
Rehab Facilities
Injured
Unable to Fly/Drive
Requiring Medical Attention
Non-Emergency

Medical Transportation For:
Medical Discharges
Long Distances
Assisted Living Relocation
And more…
---
Bedside-to-Bedside
Our medical staff is trained to provide customers with safe and reliable, patient transfer services from bedside-to-bedside, whether it is to or from their home, nursing home, assisted living facility, doctor's office or hospital. All of our medical staff members were chosen for their ability to provide non-ambulatory patients with maximum comfort. They're specialized in assisting stretcher service transports. Bedside-to-bedside is common during non-emergency, medical transportation.
Moreover, our medical vans and other transport vehicles are equipped with the very latest in fastening systems. It ensures your loved one has the safest ride possible between destinations. A TV and DVD player are on-board every medical vehicle for entertainment during long distance, medical transports. ACC Medlink's highly-skilled medical team works with individuals, families, and medical providers throughout the United States to provide the very latest in non-emergency transport services for individuals in our care.
The Most Trusted
Transportation Fleet
We provide the best mix of comfort and luxury for patients, offering safety and peace of mind for the family. ACC Medlink makes finding the perfect medical transport option a great experience for everyone.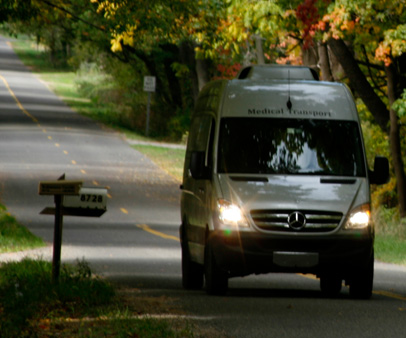 Mercedes
Fleet
Our Mercedes Sprinter is built to allow the patient maximum comfort. Our state of art designs make our long distance ambulance service the industry leader. Our Sprinter is the best combination of luxury and value for patients traveling with additional family. These vehicles help provide the most advanced, non-emergency, medical transport available.
Passengers
1 – 3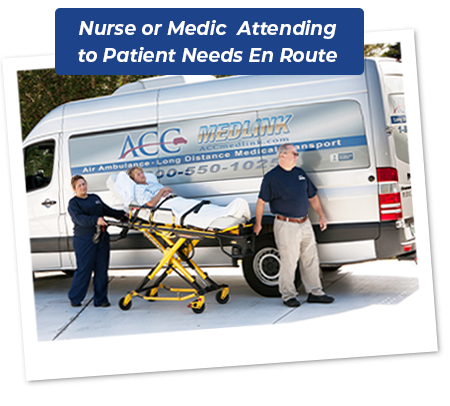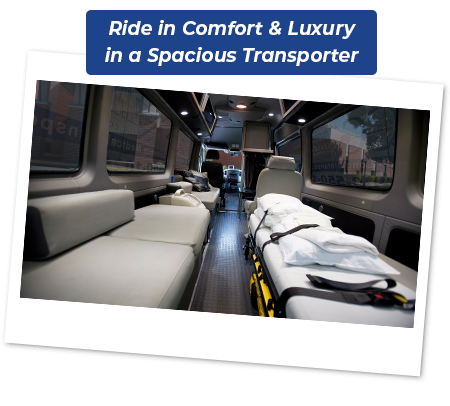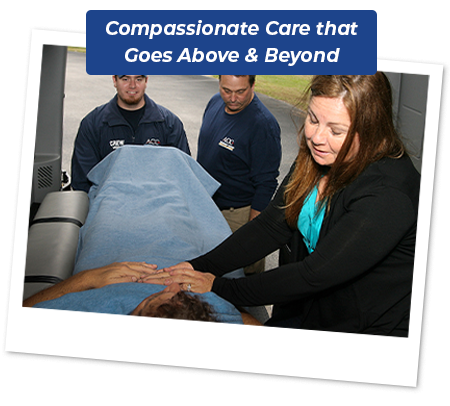 Long Distance Patient Transport Services
ACC Medlink is the premier, nationwide, medical transportation company. We offer state to state patient transport for non-emergency situations. Unlike the typical, ambulance transportation service, ACC Medlink's long distance medical transport vehicles are specially configured for comfortable transport of patients who can not walk or sit up for extended periods. If your destination is more than 200 miles away then we are the safest and cost effective choice available.
Trust Our Qualified Staff
If you need nationwide elderly transportation or state to state ambulance service, you can trust our qualified and elite medical staff to handle the patient with the utmost care. We offer an experienced team of drivers, nurses and patient care managers who work together to provide the most comfortable experience. We have an excellent track record for safely transporting our patients over long distances. We will provide a medical professional and 1-2 drivers, depending on the length of the transport.
Luxury, Comfort & Safety
Our long distance medical vans are fully equipped to meet your needs and ensure the most comfortable ride. Whether you are restricted to your bed, or you can sit up, our staff will make the necessary accommodations. We can even accommodate several of your family members or a pet. We want to make certain that you feel comfortable every step of the way. Our Mercedes Sprinter fleet are the only DOT approved vehicles in the entire industry for this type of patient transport.
Relax, We Will Take Care of Everything
All it takes is one call and everything will be taken care of. Our transport coordinators are standing by 24/7 waiting to assist your with your long distance medical transport needs. You can rest assured that your loved one is receiving the top level of care. If you have any questions, give us a call at 1-800-550-1025.
Compareto the Competition
Here's how ACC Medlink outshines competing transportation services.



Sprinter

Competitor
Minivan Services
Competitor
RV Services
Two professional drivers & medical professional
Nurses can stand & properly care for patient en route
Two drivers only
Tight space, no headroom
No room for proper care
Medic and two drivers
No way to load stretcher onto RV
No room for proper care
2-Time Safety Award winner at Fleet
World Honours
Nationwide fleet – expertly maintained
Insured beyond all Federal requirements
Questionable safety record
Questionable maintenance record
Structure not safe for passengers
Questionable maintenance record
No crash-safety standards required
8-inch memory foam mattresses
Passenger beds DOT-approved for safety
ALL DOT safety requirements met
2-inch plastic mattress
Not DOT-approved for
medical transport
Hospital-type bed
Not DOT-approved for
medical transport
Custom Bedside commode
providing unparalleled access
Bedpan only
Small ambulatory bathroom
Not ideal for patient transfer
Low Emission Vehicles
BlueTEC SCR technology
Complies with strict EPA/CARB standards
Not Low Emission Vehicles
Not Low Emission Vehicles
Safety
ACC Medlink Fleet Fully Equipped With Power Lift Pro Systems
When choosing a medical transport service provider, you must ensure to choose one that not only focuses on getting you to your destination, but also prioritizes using the safest, most conducive, and most efficient sets of vehicle fleets and equipment to do the job.
Health
ACC Medlink Stars In TLC Hit Show
ACC Medlink appeared on the TLC television network reality show "1000 LB Sisters" to transport one of the cast members from Ohio to a doctor in Kentucky. Filmed in late 2022, ACC Medlink, four of its employees and the journey they took with Tammy Slaton were featured in episode 6 of season 4, which originally aired on February 21, 2023.
Fleet
New Fleet of Elite Medical Transport Vehicles
ACC Medlink is proud to announce the addition of a new line of elite medical sprinter vans to our long distance medical transport fleet. This addition will allow ACC Medlink to continue to provide superior service and outstanding care for those in need of medical transport out of state...