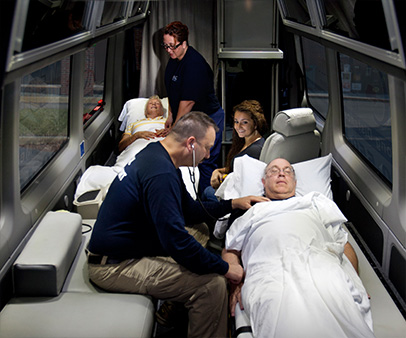 The 2010 United States Census reported there were 40.3 million Americans aged 65 or older, a 12 fold increase from the turn of the previous century. This number is expected to rise precipitously in the next two decades, as the segment of the population known as "baby boomers," born in the post-war years between 1946 and 1964, turn 65. The first baby boomers reached this milestone in 2011. There are an estimated 76.4 million more who will turn 65 between now and 2030. The significance of this increase in the population's elderly is noteworthy for a number of reasons.
Implications of an Aging Population
This growth in the elderly portion of the population is impacted by a second interesting phenomenon: the remarkable rise in life expectancy. As the result of improved access to medical care, and to advancements in medicine itself, people today are living longer than at any other time in modern history. A third reality of substantial portent is the simultaneous decline in birth rates. America is facing the rather grave situation of having, by the year 2030, a tax base of less than three persons of working age per senior citizen. It is well known that the health of most individuals declines as they age. Already, 38% of people age 65 or older report having one or more disabilities, the most common being difficulty with mobility, a figure that will only increase.
Clearly, senior citizens will represent an increasing proportion of the overall populace. In addition, their medical care seems destined to consume an ever-increasing percentage of the nation's health care resources. This is of concern, not only to government officials and seniors themselves, but also to the healthcare professionals who will be tasked with providing seniors with necessary care, and too, associated industries, such as medical transportation. The already pressing need for specialized patient and elderly transportation, for instance, State to State Patient Transport, in conjunction with non-emergency medical transport, will do nothing but grow.
The Need for Skilled Medical Transportation
Of course, transportation has always been a primary industry. From steamboat to stagecoach, automobile to red-eye jet, getting from here to there in a country as large and mobile as America, and in a world as small as the Earth, is far more necessity than luxury. Senior citizens, more often than not, are looked after, at least in part, by family members. Yet families today are scattered around the globe; the days when a person lived and worked within the same community as his parents, and traveled less than a hundred miles in his lifetime, are gone. Although their bonds of affection may hold true, today's families often end up being dispersed to any number of locations. When an elderly family member can no longer stay alone, it often becomes necessary for them to travel to wherever their sons and daughters have settled.
Extra Space Translates to Additional Comfort
Elderly people often have particular medical needs. They may be incontinent, require a feeding tube, or be demented, blind or deaf. Sometimes, they have little comprehension of what is taking place, and some spend their days locked inside their minds, decades away. Such patients, whether traveling via medical transportation as part of an inter-facility patient transport, or en-route to family members via state to state elderly transport, require attendants, and attendants require space. Thus, the need for a luxury ambulance is born. If enough headroom to stand up and turn a patient in order to clean them, or to make them more comfortable, can be considered a luxury.
The family members tasked with the responsibility of arranging long-distance transportation for their loved ones need to be educated to consider such fundamentals as space. While it may be true that economics is a reality of life, there are still some things that merit the money spent. If that is your mother or father traveling via ambulance from coast to coast, surely their comfort is worth providing them with a reasonable amount of space, compassionate and dedicated care, and possibly even a DVD-player to help them pass the time!