Air ambulances seem rather expensive and may not be covered by the insurance offered by most service providers. However, there are still low-cost air ambulances that are affordable and reliable for medical air transport. The following are factors that determine the cost of air ambulances.
Distance to be covered by the air ambulance
The distance to be covered is taken into consideration when calculating the cost of an air ambulance. The fuel exhausted is greater for long distances. Also, the medical team wages are included before the overall cost is generated. This is because they are usually paid on an hourly basis. Sometimes, the aircraft might be farther from the pickup location. This is also considered when estimating the fuel usage for the journey.
Some patients prefer travelling to their home country for medical treatment than the nearest medical institution. Long-distance air travel of this kind requires skilled healthcare professionals and specialized equipment since a medical emergency may arise on board the plane. Consequently, the price will be slated at a higher value due to these additional requirements.
Medical staff accompanying the patient and the type of equipment in the aircraft
The cost of an air ambulance also depends on the number of medical personnel escorting the patient. Similarly, some medical air travel requires a specialist healthcare practitioner to accompany the patient.
In such circumstances, the cost is increased. The same price increase also applies when some special medical equipment is installed in the aircraft.
The type of aircraft used
The type of aircraft used is determined by the number of medical professionals accompanying the patient and the medical equipment that would cater to the patient's needs. Keeping this in mind, the price of medical air transport varies depending on the type of aircraft used. Low-cost air ambulances are usually fixed propeller aircraft.
The form of services offered
Air ambulance companies offer various services depending on the patient's need. Some patients might need ground transportation or bed-to-bed services. Before patronizing a firm offering air ambulance services, you should inquire whether the desired services are included in the contract.
Likewise, you should also ask if the services could be tailored to meet your needs, especially when the services are not exactly as you want them. Additionally, the type of extra services offered would also determine the air ambulance service charges.
Conclusion
The cost of an air ambulance depends on the distance to be covered, the type of aircraft used, the regulations and procedures, the services offered, the number of medical professionals escorting the patient, and the medical equipment onboard the aircraft. Although these factors can directly affect an air ambulance's price, there are still several low-cost air ambulance options, depending mainly on need, function, and preference.
Non-Emergency Medical Transport (NEMT) and How it Works
We all need medical attention from time to time. But sometimes, transporting ourselves or loved ones for medical appointments might present some challenges. In some cases, the medical condition isn't life-threatening, which means the patient can take their time to get therapy.
Non-emergency medical transport is a type of medical transport service suitable for patients who aren't in immediate need of medical attention but still need professional help getting to a doctor.
Why NEMT?
Some medical conditions require professional medical transport service, especially if the journey is a long one. That's the aim of specialized medical transportation facilities, geared with a wide range of equipment and professionals onboard to ensure a safe and comfortable journey.
The Nature and Benefits of NEMT
Non-emergency medical transport services occur via ground or air, depending on availability and the amount the patient or their friends and family are willing to pay. When there is no need for immediate medical attention, the journey can take several hours. However, there are short medical journeys that require professional care by both drivers and medical personnel. The drivers of medical transport vehicles train in defensive driving.
These vehicles and air ambulances typically have large room space and several beds, and luxury seats for both patients and loved ones. The beds usually have safety systems for patients who need help staying in bed. There are also facilities for wheelchair patients or those on stretchers or other special equipment.
Predictably, medical transport services will always cost more than boarding a public bus or commercial plane. However, the gains of being transported safely and conveniently, especially through long distances, can't be overemphasized.
Understandably, some people may not be able to afford to pay for this service out-of-pocket. Many use their medical insurance to pay for medical transport.
Studies show a strong correlation between less effective healthcare and distances to healthcare providers. What this means is, communities near medical facilities ultimately enjoy better health outcomes. Those farther from healthcare providers often struggle with transportation costs and even inadequate or unreliable transportation services. The bottom line is communities with better medical transport infrastructure benefit from overall improved health status and may even pay less.
Non-emergency medical transport services have been around for a long time and are critical to a community's wellbeing. It is even more critical in this era of covid-19, where boarding public buses or planes have become increasingly difficult. And with Medicaid coverage, the burden of cost drops significantly, despite proving many benefits.
When to Use State to State Medical Transport Services
When a person requires specialized care or treatment at a distant medical facility, a state to state medical transport service is often the ideal transport method. Most interstate medical transport services have the right kind of medical vehicle and personnel on board to safely and conveniently transport a patient over a long distance.
Why are Medical Transport Services Necessary?
Private and commercial transport services are rarely equipped with the right type of medical equipment or personnel needed to transport a bedridden or sick patient over long distances safely. Specialized long-distance medical transport services have retrofitted vehicles with beds, life-saving medical equipment and trained medical personnel to accompany the patient and administer emergency or routine care if needed.
What Are Some Features of a Long-Distance Medical Transport Service?
Some medical transport services offer in-flight services to patients and their families. Depending on the financial ability and preferred mode of transportation, there will be a need to discuss with the medical transport company beforehand. This is important to ensure that an accurate quote of the service needed is given and the best mode of transport is determined for the sick person.
Some medical transport services will also offer a bed-to-bed medical transport service. Here, the patient is picked up from their bed at a facility or from their home and is delivered directly to a bed in the receiving facility. This arrangement offers the least inconvenience to the patient and guarantees that they will always be looked after from pickup to drop off.
Transporting a patient over a long distance requires more than just a convenient transport method. It will also involve medical care while in transit and special arrangements to ensure the patient's convenience and safety throughout the long trip. There are several modes of state to state medical transport service. Air ambulance, commercial airlines and medical vehicles are some common methods. However, each patient's ideal mode of transport will be determined primarily by a combination of factors including budget, medical condition/state, priority, and preference.
What to Know About Long Distance Medical Transport
Sometimes people need to travel to or from a health facility or home despite health challenges due to age or illness. And it may be necessary they have medical care during the journey and be transported as gently as the condition requires. Using general commercial transport is usually not a suitable option. Hence, the rise of long distance medical transport.
What Kind of Medical Transport is it?
This is a non-emergency service for transporting patients over long distances to or from rehabilitation centers, retirement centers, nursing homes, assisted living, and even private residences. A trip is considered long-distance if it exceeds 200 miles.
The primary purpose of this specialized transport systems is to ensure that patients get medical attention during travel, are comfortable, and arrive safely. This kind of transport also differs from a traditional ambulance in that it is only for non-emergency situations, in addition to the myriad of comfort appliances included. Most such vehicles would have large room space for accompanying family members to also travel with ease.
What differentiates this kind of medical transport from an ambulance or regular transport is that the transport facilities are typically outfitted with lay-flat mattresses and other comfort and safety equipment. The beds can come in different sizes equipped with tri-belt safety systems to support patients who need help staying in bed. It's also common to have a private bathroom, TV set, mini-fridge, and other amenities on a medical transport vehicle.
Which People Use Long Distance Medical Transport?
People on vacation who are down with a severe illness or injury, but need to return home
Older people on vacation or trip to visit family or friend
Patients moving to or from a specialized medical facility
People with disability or health condition that restricts movement
Relocating elderly people
These are just some people who may need this kind of medical transportation. It's not limited to these only. If for any reason you cannot travel long distances but really need to travel, then your best option would be to use one of these specialized transportation services. Common health conditions that often warrant such specialized transportation includes but is not limited to patients with cancer, dementia, stabilized bone fracture, post-operation, and others.
A medically assisted transport is critical for patients who may need medical attention during their journey. There are usually medical personnel onboard the vehicle or plane whose services come handy in times of emergency. Some vehicles and planes would have special medical equipment, like a place to restore motorized wheelchairs, oxygen setup, etc.
Sometimes patients are pretty nervous about moving long distances alone or without the company of a medical expert. Knowing that they are travelling in a comfortable facility and will be taken care of in times of emergency helps reassure the patient and families.
The drivers of medical transport vehicles are professionally licensed for defensive driving, and they regularly update their licenses. Medical transport companies are usually prepared for any possibility of a vehicle breakdown. It is rare for medical transport vehicles to break down due to the strict maintenance policies such companies adopt, like servicing vehicles after each trip and replacing vehicles after reaching certain milestones.
Depending on how much money you are willing to spend, there are three popular options for air and ground medical transport. Air ambulance is the most expensive. But that's not the only way to transport patients by air. Most medical transport companies can make air travel arrangements via commercial airliners, and even provide a flight nurse where necessary.
Land transport is the cheapest, but it takes longer and may provide less comfort. Due to the immense benefits of long distance medical transport, which mainly resides in safety and comfort, it is the best option for those whose conditions warrant it.
Depending on your needs and mobility, there are various forms of medical transport services that allow patients to save time and money while ensuring that they reach their destination with utmost comfort and ease. Below are some different types of medical transportation:
Ambulance transportation: This is the most common form of medical transport service and is commonly used for emergencies. Ambulances are typically utilized to access accident scenes and are either used to transport casualties to the nearest medical facility or to shuttle them between medical facilities.
Non-Emergency Medical Transportation: Offers an additional level of care and support for patients who utilizes a NEMT vehicle. However, it is less expensive compared to ambulances and is more suited for patients with special needs/safety issues, those confined to the bed, and bariatric patients.
Stretcher Transportation: Some patients are unable to move out of bed or assume a sitting position. This calls for a special form of medical transport service that can accommodate a stretcher in the vehicle. As long as the situation doesn't involve a medical emergency, stretcher transportation is suited for patients that need to be conveyed laying down.
Wheelchair Transportation: In the case where a patient is unable to walk without assistance, wheelchair transportation becomes the ideal form of medical transportation. Some patients prefer to move from the wheelchair to the vehicle seat, while others choose to stay on the wheelchair. Medical transport service providers consider these preferences for every patient in need of their service. However, restraints and hookups must be installed in the vehicle to ensure that the wheelchair remains in place during the journey to the patient's destination.
Door-through-door transportation: Door-through-door transportation serves the purpose of assisting patients in getting out of their houses and into the appointment room. Trained drivers would often enter into the patient's home and help them onto the wheelchair, stretcher, or walking them to the vehicle.
Air medical Transport: Some patients might need medical care in a destination that might ordinarily take a longer time to reach while traveling on land. For instance, a patient in San Francisco may require surgery in London. Air medical transport is convenient and more reliable for these patients, given the fact that state of the art medical equipment, including specific ICU devices, are made available within an air ambulance. Flight nurses and paramedics are also available to provide the highest level of care to patients, in case of a medical emergency.
Long-distance Non-Emergency Medical Transportation: Transporting loved ones over a long distance might seem like a herculean task. Long-distance medical transportation often relieves the client of the cumbersome task of making arrangements for a vehicle to take them over a long distance, i.e. interstate. This medical transport service is highly suited for situations where the patient needs to receive non-emergency medical care at a considerable distance from their residence. Long-distance non-emergency medical transportation offers convenience and reliability over several miles of travel.
Curb-to-Curb Medical Transportation: This is similar to door-to-door medical transportation. However, the patient has to wait patiently outside the home for the driver's arrival. The driver helps the passenger into the vehicle and drives to the medical facility or residence. Once they arrive at the destination, the driver assists the passenger to alight the vehicle before departing.
Whether you are traveling to the other end of the earth, three states away medical transport services are incredibly useful for safely and speedily transporting patients from one point to another.
ACC Medlink is committed to the safety and health of all our patients and crew. Given the coronavirus's unfortunate spread, we recognize the need for extra vigilance and care for the safety and well-being of our patients and staff. We continuously adapt and review our Covid-19 policy and procedures according to the latest government guidelines.
We go above the CDC guidelines and sterilize all equipment including our transport vans with approved chemicals and UV Light.
CLEANING AND DISINFECTANT PROCEDURE
We maintain a stringent cleaning protocol for our premises and vehicles, with increased cleaning in high contact areas and direct-contact areas.
The interior of our vans are cleaned continuously and sterilized with an approved disinfectant.
We subject the interior of our medical transport vehicles to UV light treatment to maintain hygiene and kill any remaining viruses.
We have provided hand sanitizers and disinfectant wipes in our vehicles for easy cleaning and disinfectant of surfaces.
Where possible and safe to do so, we ensure our vehicles' windows are open to promote continuous airflow and circulation.
These protocols are repeated after each use and/or as needed.
OUR STAFF
Our entire staff and transporter crew are subjected to weekly Covid-19 tests using an approved 15-minute rapid testing kit we have on-site.
Temperature checks are carried out on all our staff members on arrival.
Every member of our staff adheres to strict social distancing measures where possible.
Any member of our staff who show any signs of Covid-19 will be Covid tested with our rapid test kit.
Our transport crew wear masks and hand gloves in line with CDC and official government guidelines.
Our staff are also instructed to regularly wipe and disinfect surfaces and use hand sanitizers before and after leaving our vans.
OUR PATIENTS
Our patients are subject to temperature checks before transport.
We provide sanitizers and disinfectant wipes for our patients and ensure any luggage or bags they carry are wiped and disinfected thoroughly.
Patients who have tested positive for Covid-19 must present a negative test result before we transport them. Speak with our transport coordinators about our 15 minute rapid test.
If a friend or family accompanies a patient, they must adhere to all our covid19 protocols, including the use of face masks, temperature checks, and regular use of hand sanitizers..
We do not transport Covid positive patients and do offer a 15 minute rapid result covid test. Please ask one of our transport coordinators for details.
ACC Medlink has more safe miles driven than any Long Distance Medical Transport service. We will always work to that high standard and look forward to safely and conveniently transporting patients through our wide range of medical transportation services safely and Covid free.
ACC Medlink is proud to announce the addition of a new line of elite medical sprinter vans to our long distance medical transport fleet. This addition will allow ACC Medlink to continue to provide superior service and outstanding care for those in need of medical transport out of state. Our limo-style med sprinters are stationed in strategic areas throughout the Midwest region of the United States. This enables ACC Medlink to respond rapidly to any of your needs for Midwest medical transport.
These elite medical transport vans are designed for comfort and luxury, they are spacious enough for family members to travel along, and even pets. The luxurious leather captains' chairs and 8" memory foam mattress provides ultimate relaxation for your long-distance trip. The vehicles are also equipped with wi-fi and TV/DVD player to keep you entertained.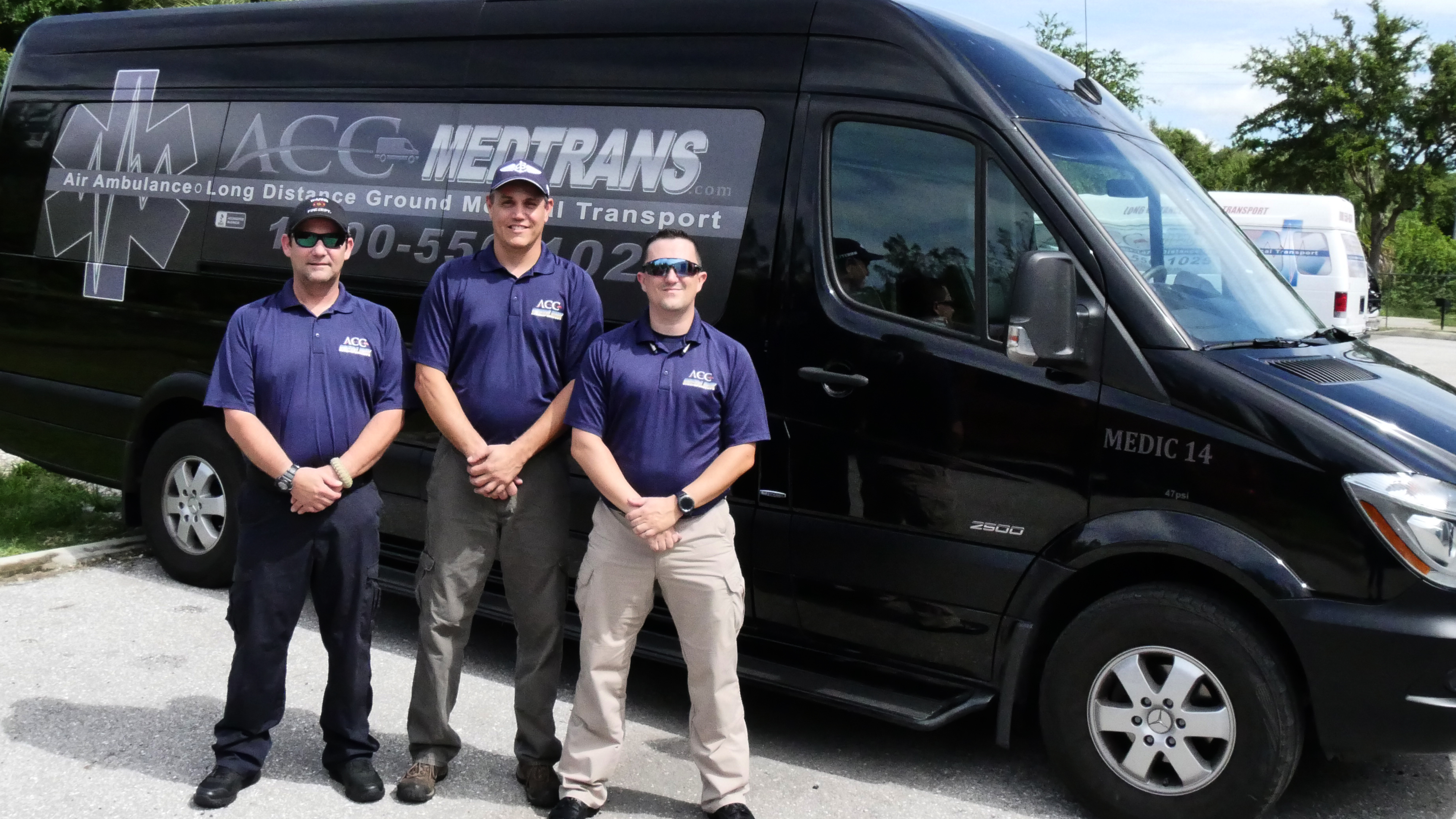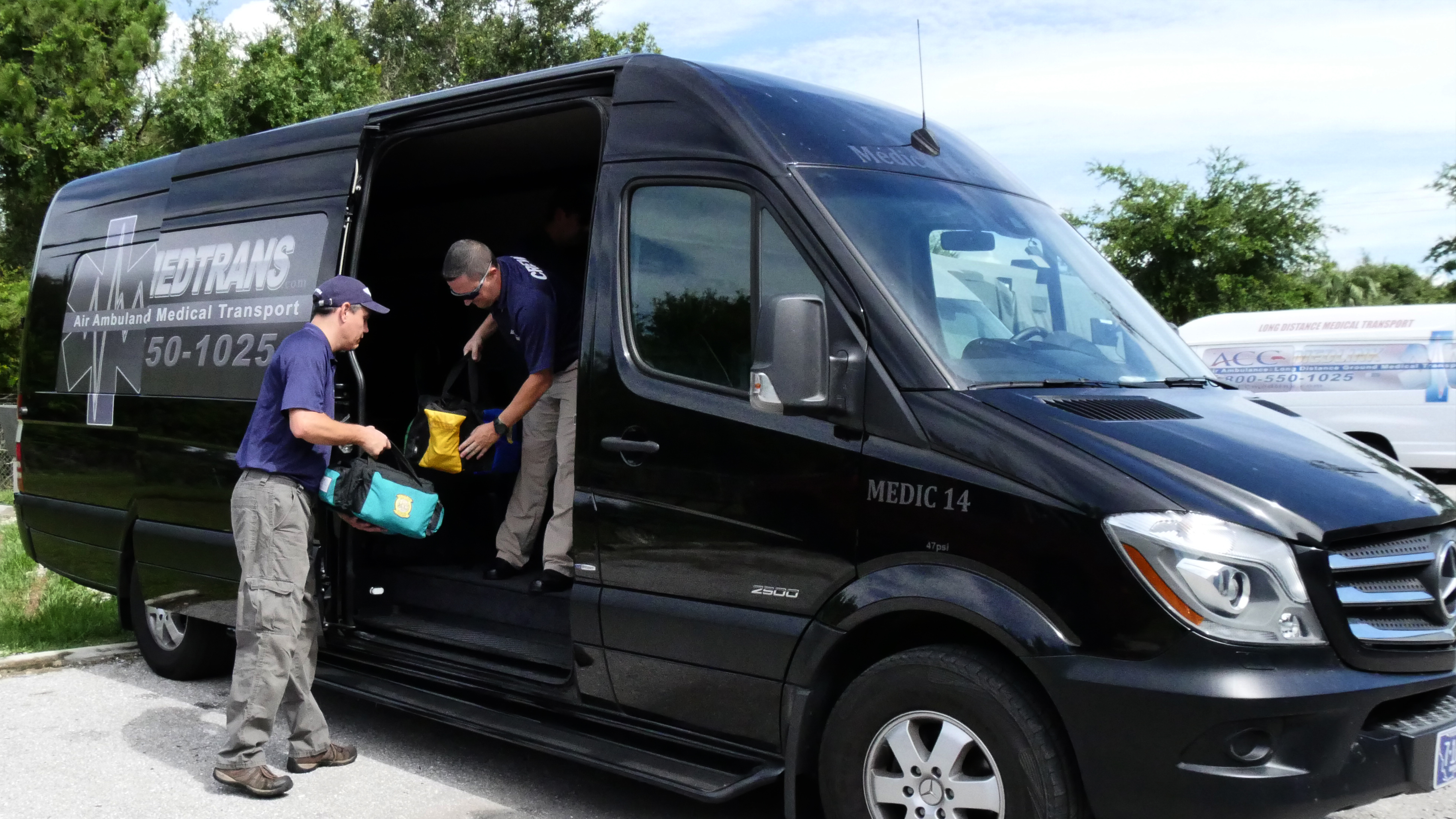 ---
ACC Medlink™ offers new vehicles which are staffed with an experienced, professional, and compassionate medical team who value nothing more than patient care and safety. ACC Medlink provides two drivers per trip that rotate shifts to transport you to your destination quickly and safely. ACC Medlink's customized Mercedes Sprinter Cargo Vans offer the longest list of safety technology in the class.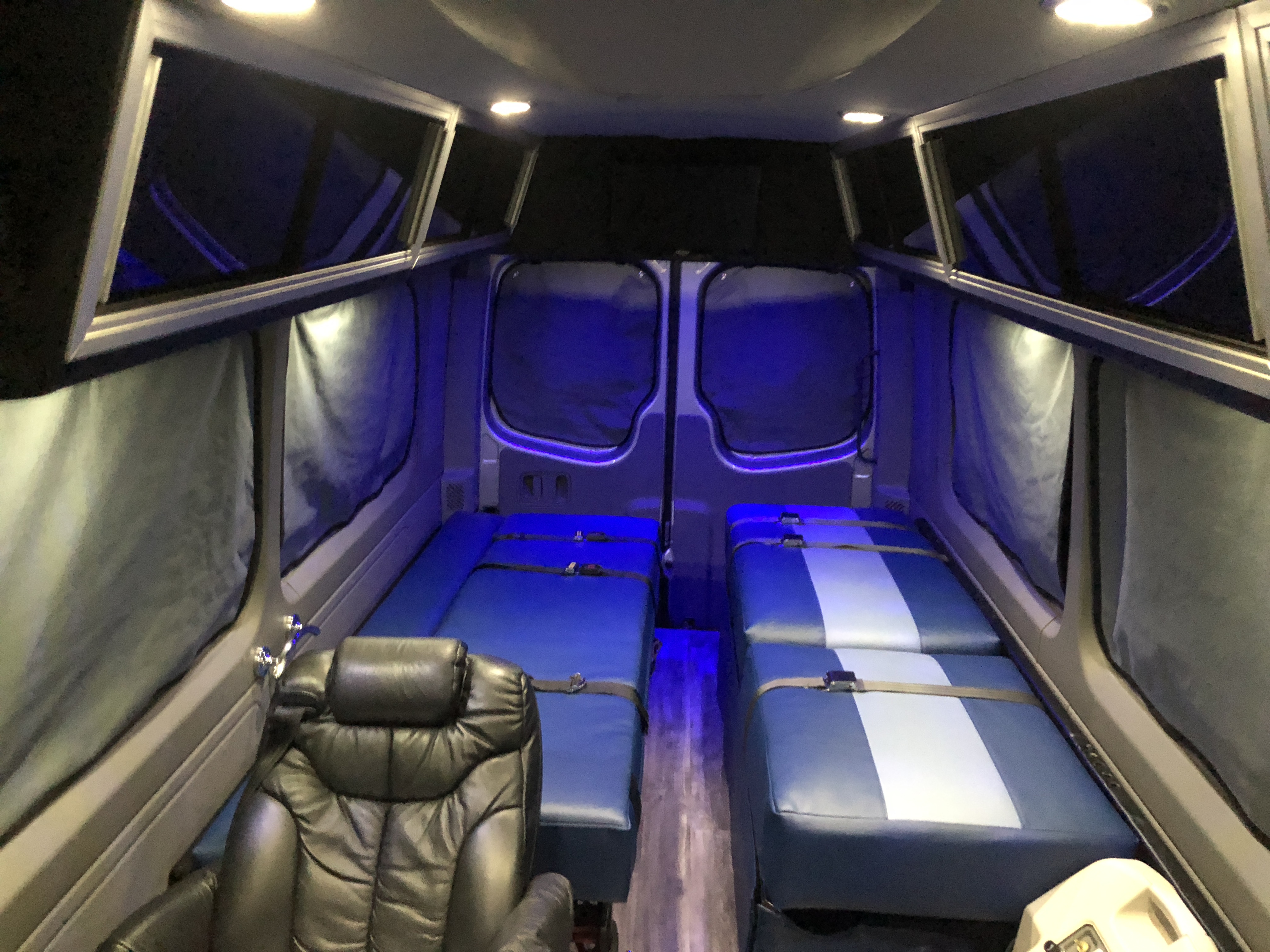 ---
If you or a loved one is in need of interstate medical transportation, then please contact one of our transport specialists at (800) 550-1025 to arrange your trip or request a quote online.
Federal Motor Carrier Safety Administration Verified Compliance
ACC Medlink is authorized to conduct interstate passenger transportation by the Federal Motor Carrier Safety Administration which mandates specific levels of insurance coverage, as well as, complicity with other Federal requirements. ACC Medlink is in full compliance with these standards and insurance requirements. Any and all entities conducting interstate passenger transportation must be registered as a Federal Motor Carrier.
When a person is unable to obtain the specialized care that they need, they will become a medical tourist and travel to another country. This may require the use of an air ambulance to ensure comfort and safety during the journey. The process of planning a trip and hiring an air ambulance can seem overwhelming. The following tips will help the provider give the best possible service before and during the flight.
1.

Choose a Destination

Before contacting an air ambulance provider, the person should consult with their medical team to determine where the best possible care can be obtained. Aside from the necessary medical paperwork, the individual should make sure their passport is current and start the application process for any required visas well before the trip. Having all the documents in one place will help both the person and the air ambulance provider avoid any difficulties along the way.
The choice of an air ambulance provider is just as vital as choosing the right doctor for appropriate treatment and care. Before making a commitment, the following questions should be asked:
• Is the right aircraft available? The provider should have several different types of aircraft available to take individuals wherever they need to go. Make sure to confirm the size of the aircraft available and the ability to accommodate any family members or other extra passengers that may be traveling.
• Will an experienced medical team travel with the person? The medical team should be based on patient's needs and may include a respiratory therapist, a critical care nurse, or in some cases, a doctor on the flight. The aircraft should also be able to accommodate any extra specialists that are required under certain circumstances.
The person should provide the air ambulance provider with all the necessary paperwork and medical data required for the flight. This will all support the patient in receiving the Best Care in the Air®. All passports with Visas should be kept together in an accessible place, as they will be needed immediately upon arriving in a foreign country.
An air medical transport carries a great deal of necessary equipment to support patients in flight. This means there is not much space available for personal luggage, and the individual will need to pack their essentials efficiently. In most cases, the person should pack comfortable, loose-fitting clothes that can be easily removed if needed. It is also a good idea to bring any products or snacks that may not be available at the destination, even if the travel is restricted to North America. A book or tablet computer will help to pass the long hours if the person is conscious.
5.

Arrange Ground Transport
The purpose of an air ambulance is to transport a person from one place to another. While some providers will arrange ground transport
for both the originating and the destination airports, the individual must ensure that this service will be available.
The goal is to have a comfortable, seamless experience with all medical needs met from start to finish.