In the past, the logistics of travelling to or between medical facilities was a nightmare. As convenience and simplicity take center stage in our lives, there are more convenient and accessible means of booking a medical transport service.
Depending on your needs and mobility, there are various forms of medical transport services that allow patients to save time and money while ensuring that they reach their destination with utmost comfort and ease. Below are the different types of medical transportation:
Ambulance transportation: This is the most common form of medical transport service and is commonly used for emergencies. Ambulances are typically utilized to access accident scenes and are either used to transport casualties to the nearest medical facility or to shuttle them between medical facilities.
Non-Emergency Medical Transportation: This offers an additional level of care and support for patients who utilizes a NEMT vehicle. However, it is less expensive compared to ambulances and is more suited for patients with special needs/safety issues, those confined to the bed, and bariatric patients.
Stretcher Transportation: Some patients are unable to move out of bed or assume a sitting position. This calls for a special form of medical transport service that can accommodate a stretcher in the vehicle. As long as the situation doesn't involve a medical emergency, stretcher transportation is suited for patients that need to be conveyed laying down.
Wheelchair Transportation: In the case where a patient is unable to walk without assistance, wheelchair transportation becomes the ideal form of medical transportation. Some patients prefer to move from the wheelchair to the vehicle seat, while others choose to stay on the wheelchair. Medical transport service providers consider these preferences for every patient in need of their service. However, restraints and hookups must be installed in the vehicle to ensure that the wheelchair remains in place during the journey to the patient's destination.
Door-through-door transportation: Door-through-door transportation serves the purpose of assisting patients in getting out of their houses and into the appointment room. Trained drivers would often enter into the patient's home and help them onto the wheelchair, stretcher, or walking them to the vehicle.
Air medical Transport: Some patients might need medical care in a destination that might ordinarily take a longer time to reach while traveling on land. For instance, a patient in San Francisco may require surgery in London. Air medical transport is convenient and more reliable for these patients, given the fact that state of the art medical equipment, including specific ICU devices, are made available within an air ambulance. Flight nurses and paramedics are also available to provide the highest level of care to patients, in case of a medical emergency.
Long-distance Non-Emergency Medical Transportation: Transporting loved ones over a long distance might seem like a herculean task. Long-distance medical transportation often relieves the client of the cumbersome task of making arrangements for a vehicle to take them over a long distance, i.e. interstate. This medical transport service is highly suited for situations where the patient needs to receive non-emergency medical care at a considerable distance from their residence. Long-distance non-emergency medical transportation offers convenience and reliability over several miles of travel.
Curb-to-Curb Medical Transportation: This is similar to door-to-door medical transportation. However, the patient has to wait patiently outside the home for the driver's arrival. The driver helps the passenger into the vehicle and drives to the medical facility or residence. Once they arrive at the destination, the driver assists the passenger to alight the vehicle before departing.
Whether you are traveling to the other end of the earth, three states away or going for a doctor's appointment a few blocks from your residence, medical transport services are incredibly useful for safely and speedily transporting patients from one point to another.
ACC Medlink is committed to the safety and health of all our patients and crew. Given the coronavirus's unfortunate spread, we recognize the need for extra vigilance and care for the safety and well-being of our patients and staff. We continuously adapt and review our Covid-19 policy and procedures according to the latest government guidelines.
We go above the CDC guidelines and offer an antigen on site rapid test for our patients and crew. We sterilize all equipment including our transport vans with approved chemicals and UV Light. For more information and availability about our Covid antigen tests ask our Coordinators 24/7.
CLEANING AND DISINFECTANT PROCEDURE
We maintain a stringent cleaning protocol for our premises and vehicles, with increased cleaning in high contact areas and direct-contact areas.
The interior of our vans are cleaned continuously and sterilized with an approved disinfectant.
We subject the interior of our medical transport vehicles to UV light treatment to maintain hygiene and kill any remaining viruses.
We have provided hand sanitizers and disinfectant wipes in our vehicles for easy cleaning and disinfectant of surfaces.
Where possible and safe to do so, we ensure our vehicles' windows are open to promote continuous airflow and circulation.
These protocols are repeated after each use and/or as needed.
OUR STAFF
Our entire staff and transporter crew are subjected to weekly Covid-19 tests using an approved 15-minute rapid testing kit we have on-site.
Temperature checks are carried out on all our staff members on arrival.
Every member of our staff adheres to strict social distancing measures where possible.
Any member of our staff who show any signs of Covid-19 will be Covid tested with our rapid test kit.
Our transport crew wear masks and hand gloves in line with CDC and official government guidelines.
Our staff are also instructed to regularly wipe and disinfect surfaces and use hand sanitizers before and after leaving our vans.
OUR PATIENTS
Our patients are subject to temperature checks before transport.
We provide sanitizers and disinfectant wipes for our patients and ensure any luggage or bags they carry are wiped and disinfected thoroughly.
Patients who have tested positive for Covid-19 must present a negative test result before we transport them. Speak with our transport coordinators about our 15 minute rapid test.
If a friend or family accompanies a patient, they must adhere to all our covid19 protocols, including the use of face masks, temperature checks, and regular use of hand sanitizers..
We do not transport Covid positive patients and do offer a 15 minute rapid result covid test. Please ask one of our transport coordinators for details.
ACC Medlink has more safe miles driven than any Long Distance Medical Transport service. We will always work to that high standard and look forward to safely and conveniently transporting patients through our wide range of medical transportation services safely and Covid free.
ACC Medlink is proud to announce the addition of a new line of elite medical sprinter vans to our long distance medical transport fleet. This addition will allow ACC Medlink to continue to provide superior service and outstanding care for those in need of medical transport out of state. Our limo-style med sprinters are stationed in strategic areas throughout the Midwest region of the United States. This enables ACC Medlink to respond rapidly to any of your needs for Midwest medical transport.
These elite medical transport vans are designed for comfort and luxury, they are spacious enough for family members to travel along, and even pets. The luxurious leather captains' chairs and 8" memory foam mattress provides ultimate relaxation for your long-distance trip. The vehicles are also equipped with wi-fi and TV/DVD player to keep you entertained.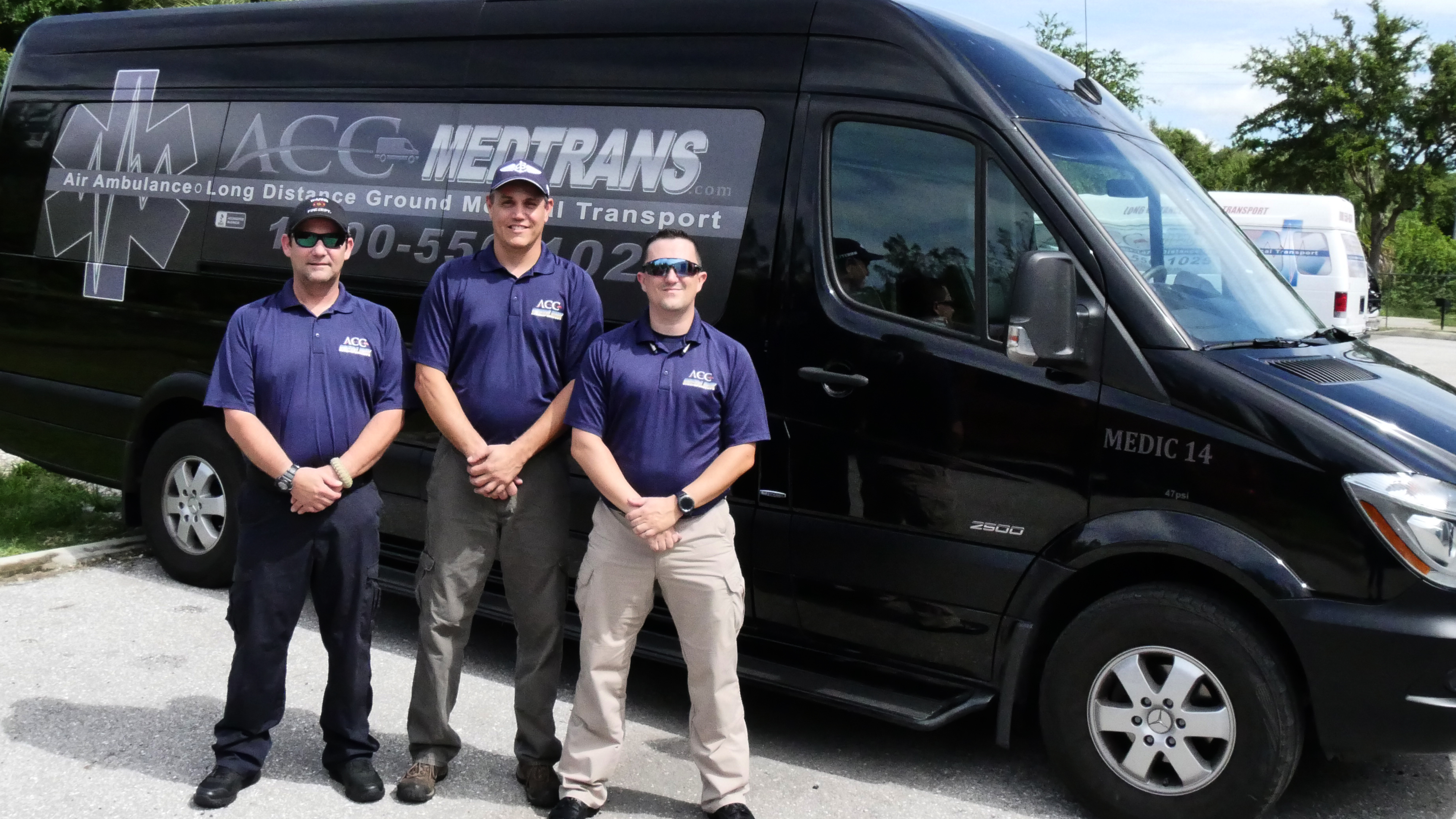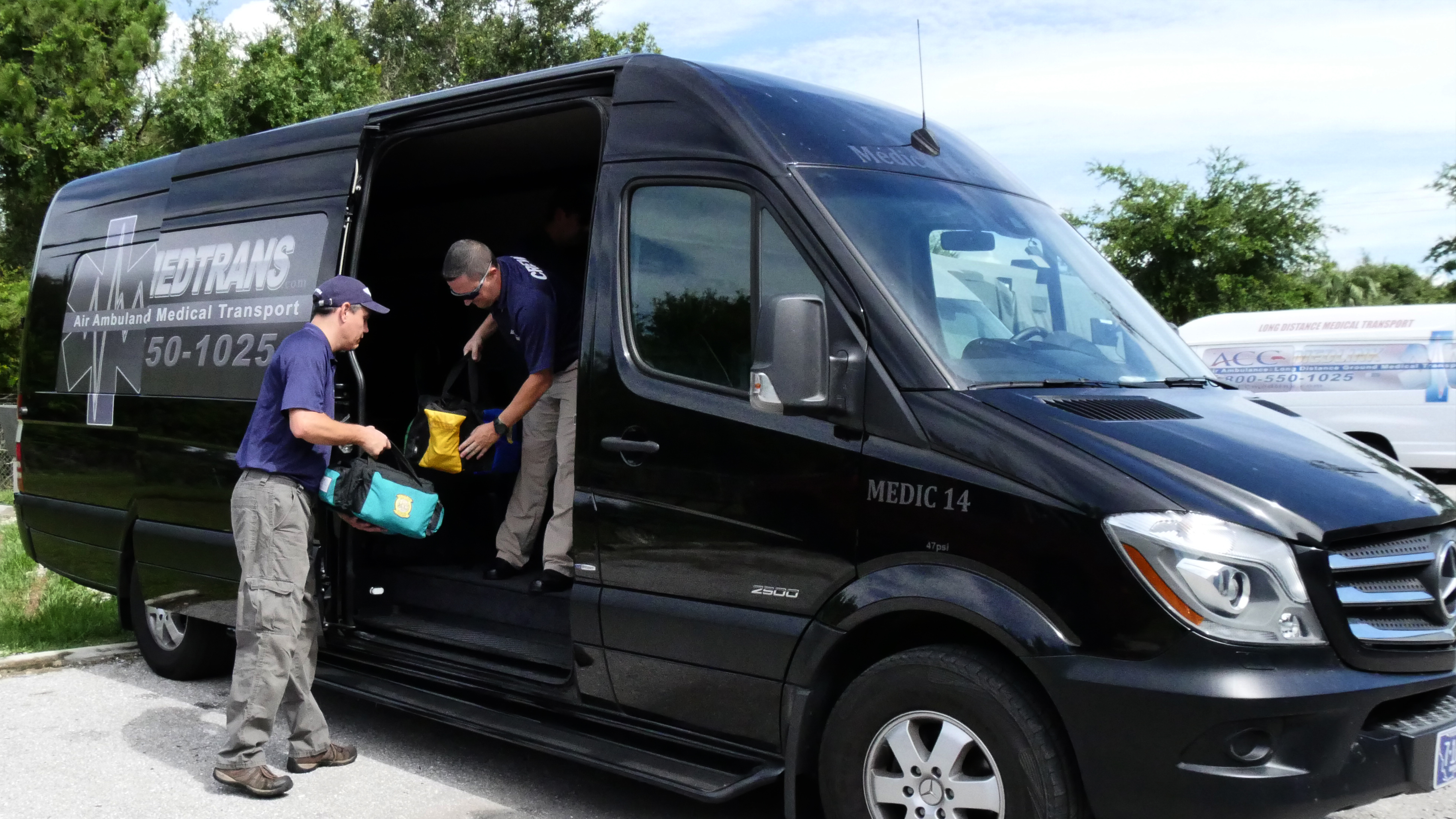 ---
ACC Medlink™ offers new vehicles which are staffed with an experienced, professional, and compassionate medical team who value nothing more than patient care and safety. ACC Medlink provides two drivers per trip that rotate shifts to transport you to your destination quickly and safely. ACC Medlink's customized Mercedes Sprinter Cargo Vans offer the longest list of safety technology in the class.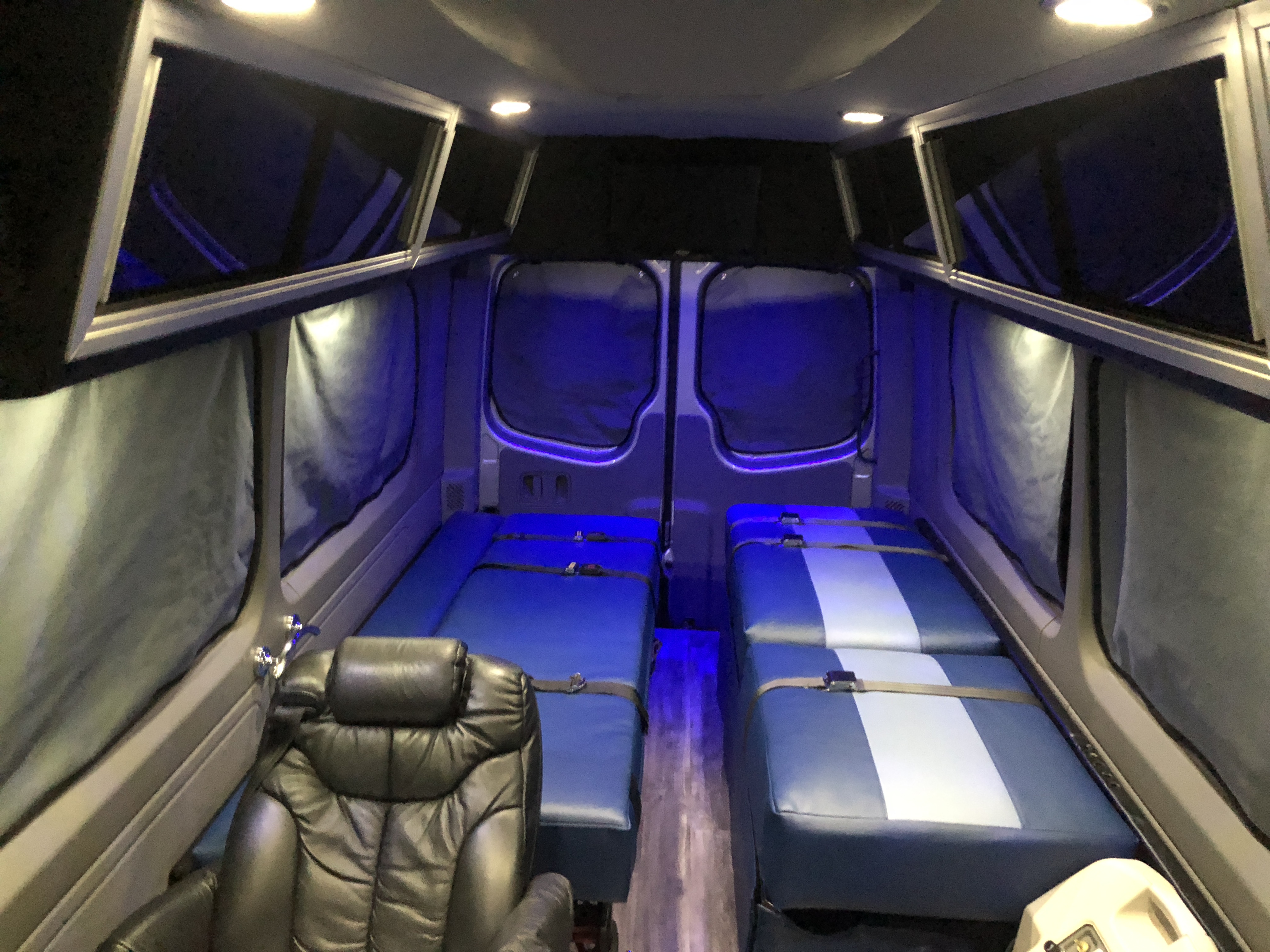 ---
If you or a loved one is in need of interstate medical transportation, then please contact one of our transport specialists at (800) 550-1025 to arrange your trip or request a quote online.
Federal Motor Carrier Safety Administration Verified Compliance
ACC Medlink is authorized to conduct interstate passenger transportation by the Federal Motor Carrier Safety Administration which mandates specific levels of insurance coverage, as well as, complicity with other Federal requirements. ACC Medlink is in full compliance with these standards and insurance requirements. Any and all entities conducting interstate passenger transportation must be registered as a Federal Motor Carrier.
When a person is unable to obtain the specialized care that they need, they will become a medical tourist and travel to another country. This may require the use of an air ambulance to ensure comfort and safety during the journey. The process of planning a trip and hiring an air ambulance can seem overwhelming. The following tips will help the provider give the best possible service before and during the flight.
1.

Choose a Destination

Before contacting an air ambulance provider, the person should consult with their medical team to determine where the best possible care can be obtained. Aside from the necessary medical paperwork, the individual should make sure their passport is current and start the application process for any required visas well before the trip. Having all the documents in one place will help both the person and the air ambulance provider avoid any difficulties along the way.
The choice of an air ambulance provider is just as vital as choosing the right doctor for appropriate treatment and care. Before making a commitment, the following questions should be asked:
• Is the right aircraft available? The provider should have several different types of aircraft available to take individuals wherever they need to go. Make sure to confirm the size of the aircraft available and the ability to accommodate any family members or other extra passengers that may be traveling.
• Will an experienced medical team travel with the person? The medical team should be based on patient's needs and may include a respiratory therapist, a critical care nurse, or in some cases, a doctor on the flight. The aircraft should also be able to accommodate any extra specialists that are required under certain circumstances.
The person should provide the air ambulance provider with all the necessary paperwork and medical data required for the flight. This will all support the patient in receiving the Best Care in the Air®. All passports with Visas should be kept together in an accessible place, as they will be needed immediately upon arriving in a foreign country.
An air medical transport carries a great deal of necessary equipment to support patients in flight. This means there is not much space available for personal luggage, and the individual will need to pack their essentials efficiently. In most cases, the person should pack comfortable, loose-fitting clothes that can be easily removed if needed. It is also a good idea to bring any products or snacks that may not be available at the destination, even if the travel is restricted to North America. A book or tablet computer will help to pass the long hours if the person is conscious.
5.

Arrange Ground Transport
The purpose of an air ambulance is to transport a person from one place to another. While some providers will arrange ground transport
for both the originating and the destination airports, the individual must ensure that this service will be available.
The goal is to have a comfortable, seamless experience with all medical needs met from start to finish.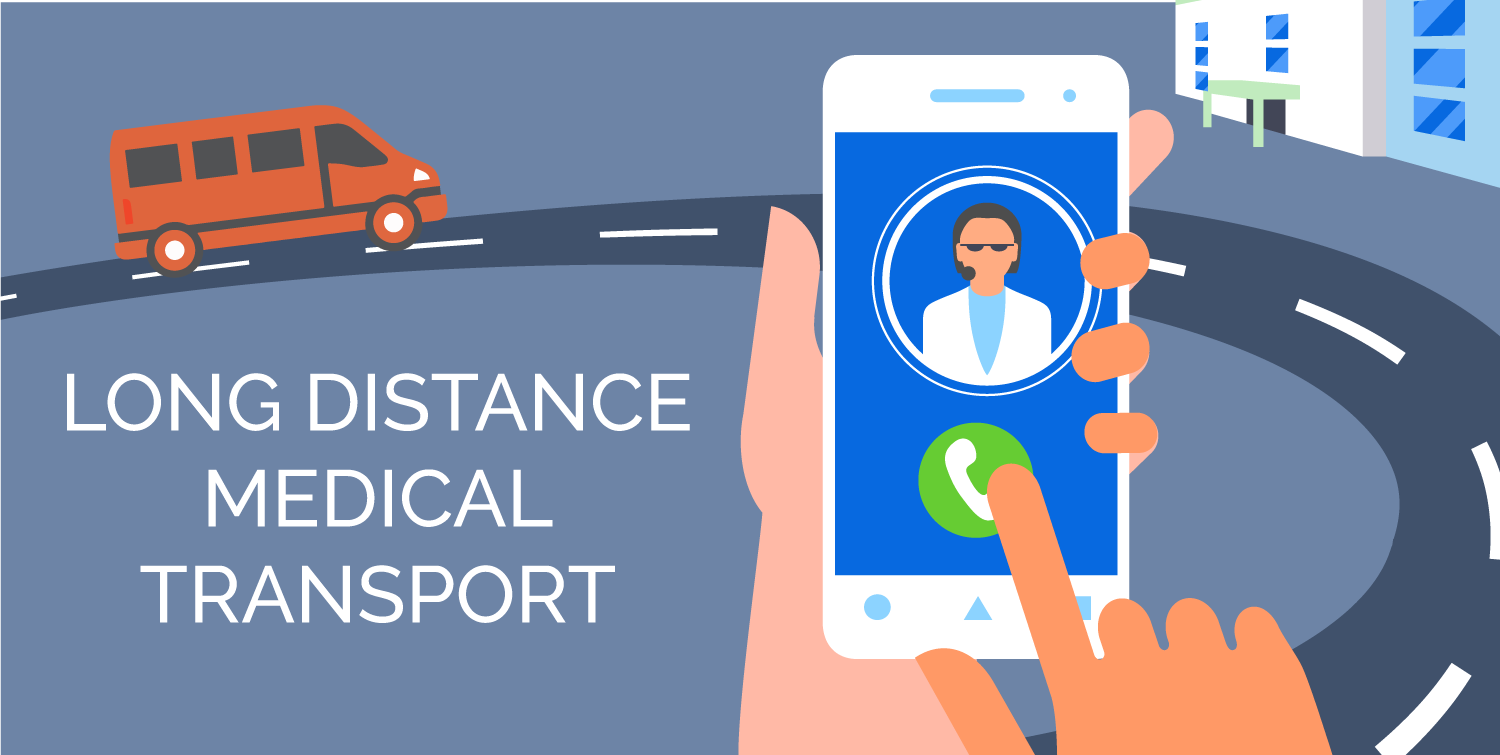 One of the more unique services offered to patients now is long distance patient transport. Long distance travel of this nature is normally for those patients who are obviously not in an emergency assistance situation. Such patients generally need to be transported to a facility that is less than 24 hours away and require a nurse or medic present to dispense medication and/or need to be transported in a stretcher.
There are a number of things to consider when choosing a medical transport service. We have listed some of the most important reasons below:
How long has the company been in business? You can look up the company on the Federal Motor Carrier Safety Administration Website to see how long they have been in business and if they are approved for long distance patient transport.
What is the size of the company and transport fleet? This makes a big difference when it comes to scheduling a pick up in the shortest time possible. Larger companies have transporters and crews stationed all over the United States and also keep their vehicles reliable by following scheduled maintenance procedures.
What about the vehicles? What are the safety ratings for the vehicles? Are they DOT-Approved? Are the vehicles large enough & comfortable enough to transport family members? Look for inside and outside images of the vehicles on the company's website.
What about the company's reputation and honesty? You can check each company's reviews on Google, Bing and several other review portals. If you see only five-star ratings and only a few reviews, this may mean that the company is generating reviews themselves. Watch out for fake reviews.
Veteran-owned businesses are a huge plus. There are many databases that can help you find veteran-owned businesses online, nationally, internationally, and near you. It should state it on the company's website if they are a veteran-owned business.


Only
the Best Care
During this time of need, when you are seeking only the best in medical transport services, it is important to find the service provider with experience and expertise. ACC Medlink is that service provider. If it is important to you, it is more important to us.
We want to earn your trust as we provide your loved one or patient the best care during their time with us. As this is a stressful time, we want to alleviate your concerns, and bring you peace of mind. ACC Medlink's transport coordinators and medical staff will assist you with every step in the medical transportation process and treat you like family. If you demand the best in long distance medical ground transport, call ACC Medlink for your medical transport services.

The Experience
Our Sprinter series transporter provides the most inviting interior for passengers to settle into and makes our medical transportation fleet second to none.


Compassionate Care
Medical professional on-board every trip.

Very Spacious & Comfortable
Lots of room for family and pets. Extra beds for family.

8″ Memory Foam Mattress
Our mattress is the most comfortable in the industry.

Leather Captain Chairs
Plush captains chairs with dual
armrests for the ultimate in luxury.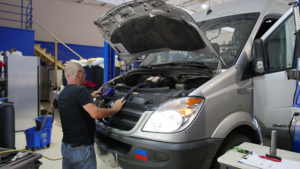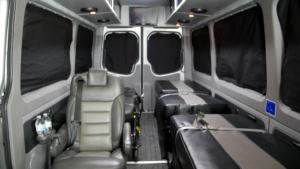 At ACC Medlink, it is our mission to ensure safety and ride quality for our patients. Therefore, we have established consistent practices designed to improve the performance and safety of our vehicles.
Our team of certified mechanics perform scheduled preventive maintenance tasks to ensure our transporters are safe and reliable. Additionally, we are continuously updating our vehicles with the latest technology and the most comfortable mattresses and materials.
ACC Medlink's extensively large fleet allows us to maintain and remodel our transporters on a rotating schedule. Two of our transporters were remodeled this week, adding new upholstery, new floors, lights and much more…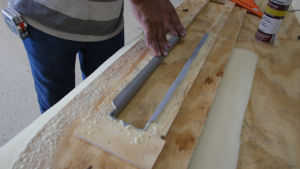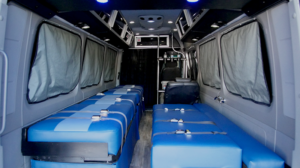 Although the thought of being transported in a large RV Motorhome vehicle with a built in restroom
Sounds ideal. There are many considerations that should be made especially considering safety.
Did you know that RVs are not DOT approved for medical transportation?
RV Motorhomes are basically stick homes built on top of a truck chassis. An accident in one could cause injuries and death to many.
RVs or Class A motorhomes are not subjected to the same extensive crash worthiness safety requirements as automobiles.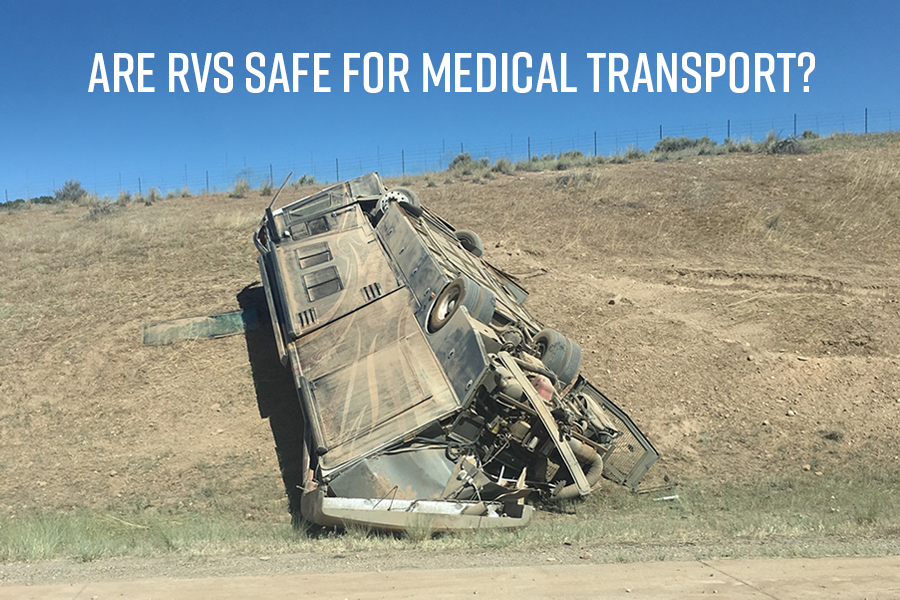 "The typically relatively small Class A motor home builder will then essentially build a stick-built home on top of that truck chassis. Unlike the extensive crash worthiness safety requirements for automobiles, the RV manufacturers may have little or no legal crashworthiness standards which apply to their work."
(HENNING, 2013)
---
ACC Medlink™ offers long distance medical vans, which are fully equipped to meet your needs and ensure the most comfortable ride. Whether the patient can sit up or is restricted to a bed, our staff will make the necessary accommodations. We can even accommodate several family members and pets.
Our Mercedes Sprinter transporters are the only DOT vehicles in the entire industry approved for this type of transport.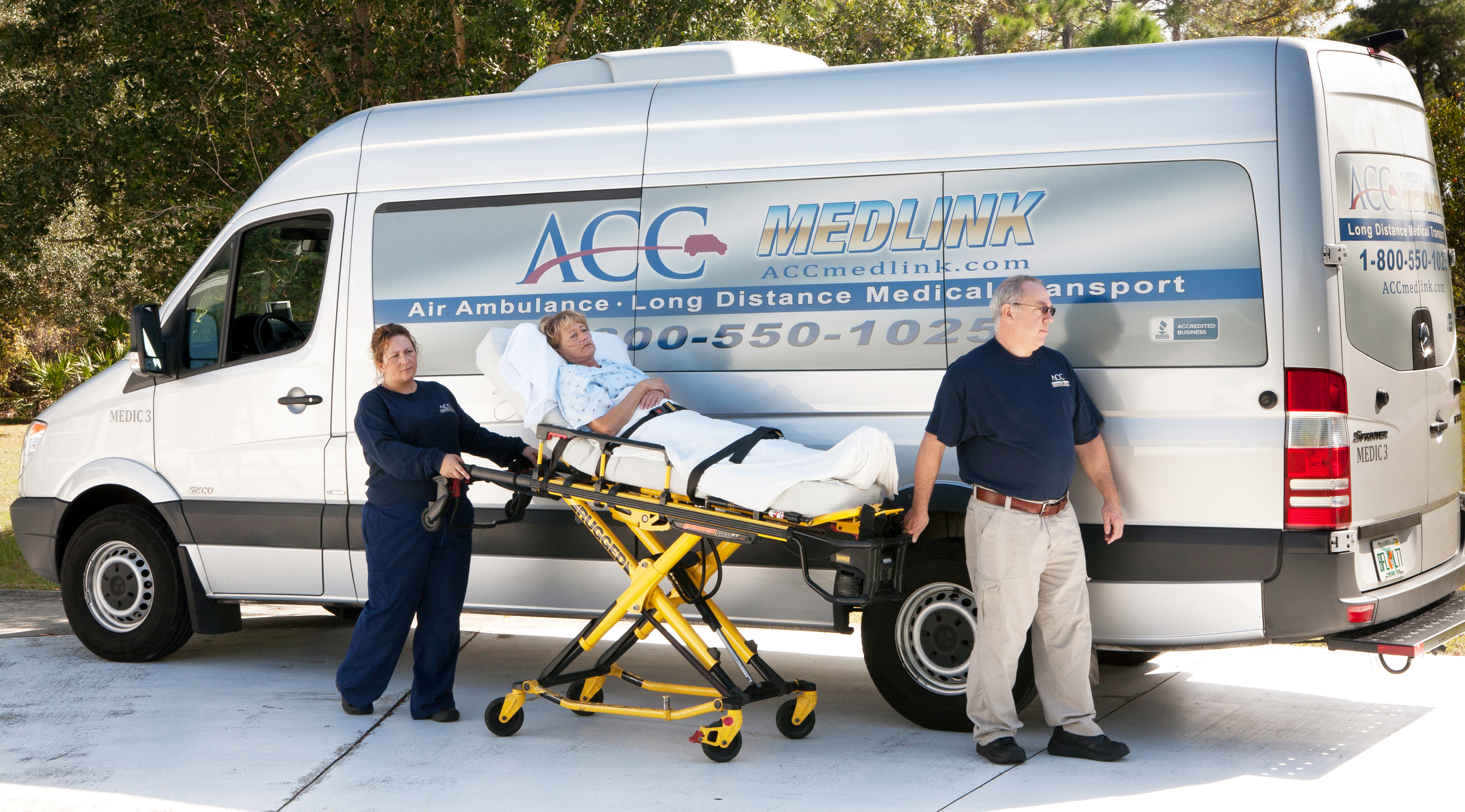 ---
Any and all entities conducting interstate passenger transportation must be registered as a Federal Motor Carrier.
Every part of our medical transportation services is aimed at your comfort and safety, but there are several things you can do to help make the ride as smooth as possible when using ACC Medlink.
1. Prepare for your ride.
Be sure to take some time before your journey to pack what you'll need. Forgetting an item at home can be time-consuming or inconvenient during and after the transportation. Consider making a checklist so you don't have to worry about items when you're focusing on the most important part of your ride-you! When traveling with our long-distance non-emergency medical transportation service, we ask that you have a two-day supply of medication at pickup as your medical transport team will not have your medication on hand.
A few items that are good to remember to include when packing are:
Reading glasses.
Dietary supplements.
Cell Phone and Cell Phone Charger.
2. Keep The Drivers and Medical Aware Of All Needs
Before and during your state to state medical transportation be sure to notify the drivers and medical professional of any needs:
Food and Beverages: along the way we do provide quick meals such as subs, salads, soups, or fast food for patients and their family. We also have a snack tray and cooler on board the medical transport ambulance. When the need for food arises simply notify the crew and they will find food close to the route they are on.
Comfort Needs: Blankets, Pillows, Sheets, and even a Electric Blanket are all stocked in the vehicle and for your use at all times throughout the transport.
3. Notify crew ahead of time for any special request.
If the patient or family have any small request please notify the transportation specialist ahead of time to ensure crew has enough time to accommodate your request for your long distance medical transport. If you like a specific kind of movie, drink, or snack.
4. Let the drivers drive.
After you've spoken to the driver and settled in, let him or her do their job and get you to your destination. It's always fine to converse with your driver as you travel the long distance, but remember that their focus is the road and keeping you and your family safe. This will ensure your medical transport is as efficient and comfortable as possible.
ACC Medlink cares about you and your medical transport needs and wants you to stay safe, comfortable, and delighted with our transportation services. We offer a variety of services that meet different levels of needs. Our long distance non-emergency transport is accompanied with caring and dedicated personnel who can help with personal hygiene, comfort needs, and much more. Find caring and highly trained medical professionals on our long distance ambulance service. Our state-to-state medical transport offers vehicles that are equipped with your comfort in mind and includes amenities such as entertainment and extra beds for family. Our worldwide air medical services serve patients ranging from those needing basic care up to critical care, and are delivered with continual bedside medical crew assistance. Another option for medical transportation is with our commercial medical escort service. All levels of care required are considered and respected, and it's our mission to provide you with comfort, privacy, and excellent care no matter how long your journey.